Who Wore It Best? Met Gala 2018 Looks Ranked
May 8, 2018


7 Must-See Moments from the 2017 Met Gala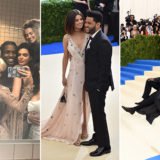 We're all Diddy.
Fashion's biggest night brought out the best and worst in style.
A-listers descended upon New York City for the annual Met Gala Monday, May 7, showing the the finest — and some of the weirdest — looks haute couture designers had to offer. Given that this year's theme was "Heavenly Bodies: Fashion and the Catholic Imagination," many celebrities went wild with the religious imagery. (Never have we seen so many halo headpieces and angel wings on the red carpet!) While Katy Perry, Rihanna, and Kim Kardashian chose to rock pieces evoking obvious Catholic symbols, while stars like Scarlett Johansson, Kerry Washington, and Kendall and Kylie Jenner appeared to play it safe with looks that didn't offend the more conservative crowd.
Who wow with their gowns? Who was a fashion fail? You be the judge! Upvote your favorite looks and downvote the ones you hated — below. The rankings will continue to change as more people vote for their faves.