'The Wizard Of Oz's Last Living Munchkin Jerry Maren Dies At 98
June 6, 2018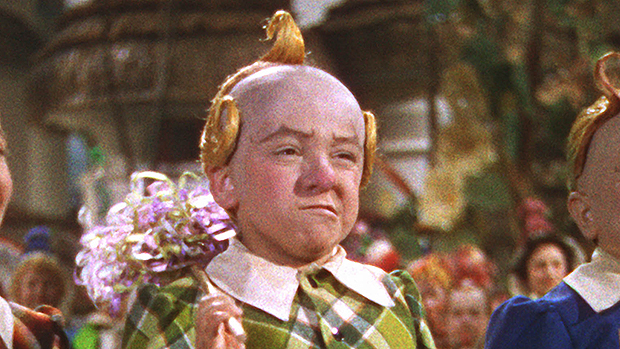 'The Wizard Of Oz's Last Living Munchkin Jerry Maren Dies At 98
It's a sad time for 'The Wizard of Oz' fans. Jerry Maren, the oldest living munchkin from the classic film, has died at the age of 98.
The last living member of the Lollipop Guild has died. Jerry Maren, who played one of the beloved munchkins in the 1939 movie The Wizard of Oz, died last week at 98 years old, according to TMZ. His funeral was held at Forest Lawn in Hollywood. The cause of Jerry's death is currently unknown, but he reportedly suffered from dementia. He died at a San Diego nursing care facility. Back in 2016, reports surfaced that Jerry had died after a battle with pancreatic cancer, but those reports were untrue.
Jerry became the last known living munchkin after the death of Ruth Duccini in Jan. 2014. Most of the cast from The Wizard of Oz, including Judy Garland, Ray Bolger, Margaret Hamilton, and Jack Haley, and Bert Lahr, have all passed away. Caren Marsh Doll, who served as Judy's dance stand-in, is still living at 99 years old.
In The Wizard of Oz, Jerry was munchkin dressed in green alongside Jakob "Jackie" Gerlich and Harry Earles. He's the one who hands Judy's character, Dorothy, a lollipop. He was only 18 years old when he shot his scenes for the movie. After The Wizard of Oz, Jerry went on to have roles in films such as Johnny Doesn't Live Here Anymore, Planet of the Apes, and Bigfoot. His last known movie appearances were in the 2010 films Dahmer vs. Gacy and Frankenstein Rising. Jerry was married to his wife, Elizabeth, for 36 years until her death in 2011.
The Wizard of Oz remains one of the most beloved films of all-time. The movie is played year-round, with children and adults of all ages tuning in to watch Dorothy explore the land of Oz. Even though Jerry's gone, he'll never be forgotten.