Reese Witherspoon Went On Vacation With Husband To Save Marriage?
June 5, 2018
Truth rating: 0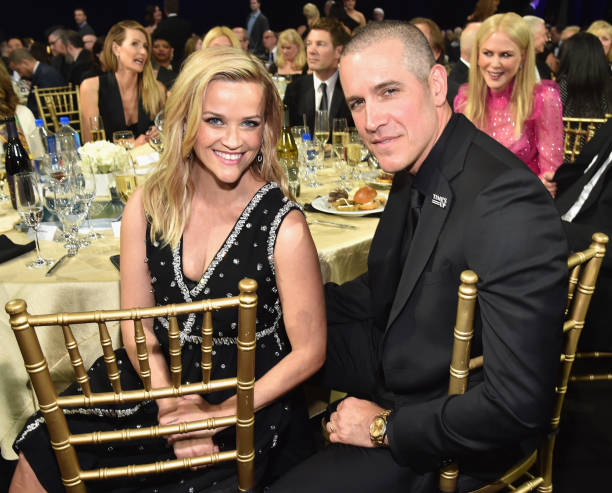 (Getty Images)
Reese Witherspoon and husband Jim Toth vacationed in Cabo San Lucas, Mexico over Memorial Day weekend, but one of this week's tabloids is wrongly reporting that the trip was a last-ditch effort to save their marriage. Gossip Cop can correct the baseless claim. There's a ton of evidence to prove the couple's relationship is very strong.
According to NW, Witherspoon agreed to go on a weekend getaway to Cabo after her husband "demanded" she take a break from work to be with him. An alleged "insider" tells the magazine, "He told her months ago not
 to make any plans for Memorial Day because he was taking her away for some much needed quality time together. He feels like they haven't spent time together in months."
The outlet's questionable source further contends that the spouses barely interact in their own house because "they're just so exhausted they rarely spend time catching up with one another." The seemingly phony tipster adds, "It's almost like they're two ships in the night sometimes. It seems like they became more distant from each other."
Every aspect of the tabloid's article is provably untrue. The actress's own Instagram page shows that she spends a ton of time with her husband, including a bunch of weekend getaways this year alone. Witherspoon recently posted a photo of her and Toth on a ski trip. Shortly after that, Witherspoon enjoyed spring break with her husband and kids. Last month, Witherspoon had a Mother's Day brunch with her family. A few days later, Witherspoon and Toth were spotted grabbing dinner in Venice, California. The Cabo vacation followed just one week after that.
As for the claim that the couple's marriage is on thin ice, that's simply not the case either, as Witherspoon frequently shares her love for her husband on Instagram. This past Valentine's Day, Witherspoon shared a photo of the couple's date night, along with the caption, "Love my Valentine! Keeping the love strong for 8 years." The following month, Witherspoon paid tribute to her husband on their anniversary, writing, "Happy Anniversary to my wonderful husband who keeps me smiling everyday! Here's to many more adventures together! I love you, JT."
Meanwhile, Witherspoon spoked to USA Today earlier this year about successfully balancing her career and family life. The actress explained that when she gets home from work, "I put the phone down. We have family dinner. Weekends, I usually don't work."
Conclusion: There's a multitude of photos on Witherspoon's own social media page to prove she and her husband spend a ton of quality time together. The actress also shares their love with the world on just about every holiday and anniversary. And finally, Witherspoon herself explained that spending time with her family is a big priority. The tabloid's claim that Toth forced his wife to take a vacation to save their marriage is untrue on every level.