Menswear And Pantsuits Were The Order Of The Day At The CFDA Awards
June 5, 2018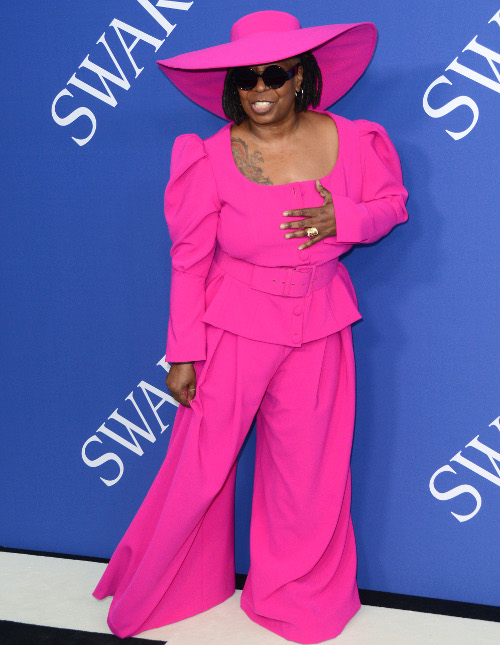 There were some real upside down and sideways looks on display at the The Council of Fashion Designers of America awards in NYC last night. Most notably Whoopi Goldberg giving us Little Bo Peep who lost her sheep and was forced to go to the big city and take out a bank loan for more, wearing her best Big Business suit. The added bonus of that suit is that those giant bell bottoms probably ring so damn loud, the sheep should have no problem finding their way back home.
Other notable looks included: Cate Blanchett's tuxedo/ baked potato/ butcher's apron combo, and the night's host Issa Rae's belt that read "Every Nigga Is A Liar" like damn, sis! Season 3 of Insecure is about it lit! All of those looks and more are in the gallery but for now, we've got plenty of high fashion to keep us in "what is going on here"s for a week.
Even though there was no stated theme for the night, many women took the opportunity to channel their inner business bitch and wore pant suits. Or maybe they did it in secret solidarity with Hillary Clinton. Busy Philipps, Brooke Shields, Diane Lane, Kourtney Kardashian and Amber Heard were among the ladies out there handling they biznass.
Gigi Hadid on the other hand, isn't getting anything done in this 'fit unless it's using it as camouflage to cat burgle the Chagall wing at The Louvre.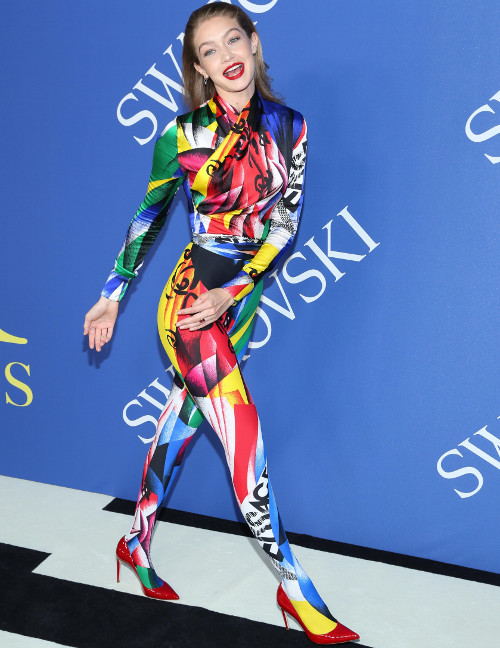 But I think there is no arguing that the true belle of the ball was the one and only Di Mondo who stunned at last year's CDFA awards as well. What can I say about Di Mondo that his ensemble isn't already screaming? Is he original? (Yeah). Is he the only one? (Yeah). Is he sexual? (Yeah). Is he everything you need? I should fucking hope so! Now, rock your body now.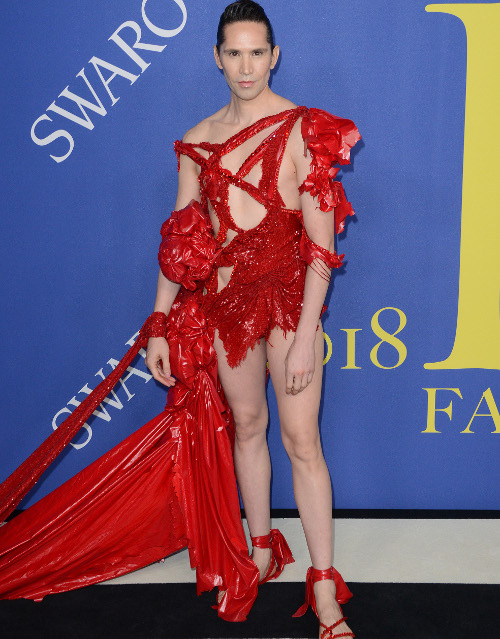 10:44am <<<OOPS>>> "Hands on / En las manos" With @ericjavits last night before going to the @CFDA awards Amazing outfit by @_imanchenonceau #CFDAAwards #CFDA #Red #EricJavits #DiMondo Tuesday June.5.2018 #NewYork Pic by: @bilchuck Makeup: @magdalena.major Hair: @kristinabauzo

A post shared by Di Mondo (@itsdimondosworld) on
You can stop at Di Mondo, but here's more fashions from last night in case you need to see them.


Pics: Wenn.com