Hailee Steinfeld And John Cena Enter The Transformers Universe In First Bumblebee Trailer
June 5, 2018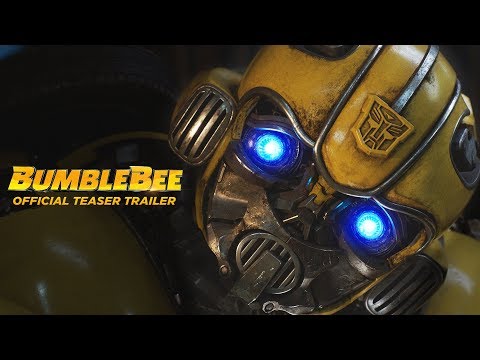 Fresh off announcing her leading role in an Emily Dickinson TV series and dropping her latest contribution to pop music, Hailee Steinfeld is returning to her movie roots. The first trailer for Bumblebee is here!
The Transformers prequel brings us back to 1987, two decades before the Autobot first chose Sam Witwicky (Shia LaBeouf) — and before it took its modern Camaro form.
The trailer leads with Charlie (Steinfeld) finding a yellow VW Beetle in a junkyard as a familiar quote echoes, reminding us that the driver doesn't pick the car; the car picks the driver.
It's not until she's pulling tools in her garage that Bumblebee first reveals itself, and after a moment of trepidation on both sides, the two become fast friends.
Their affectionate bond is the heart of the story, as Charlie enjoys oceanside cruises and teaches her new friend to communicate through music (which results in an unfortunate Rickroll — you've been warned!) and gives meaning to Bee's presence on the planet, tearfully saying, "You've got people out there who need you."
John Cena makes a brief appearance in the trailer as Agent Burns, a government operative who looks like he's on the wrong side of the battle, hinting at the action to come in this science-fiction adventure.
The spinoff is the first movie of the Transformers franchise to not be directed by Michael Bay, who opted to instead return as a producer and allow Travis Knight to take the reins. Steven Spielberg also returns as an executive producer. Check out the first trailer above. Bumblebee hits theaters December 21.