Gigi Hadid Confirms She's Back Together With Zayn Malik In Hot New PDA Pic
June 6, 2018
Gigi Hadid Confirms She's Back Together With Zayn Malik In Hot New PDA Pic
Three months after they confirmed their breakup, Zayn Malik and Gigi Hadid seem to very much be back together — and they made it Insta-official on June 5! See the pic here.
Gigi Hadid posted a sweet photo of herself and Zayn Malik to her Instagram story on June 5, seemingly confirming they're back together after breaking up in March. In the pic, Gigi is laying on Zayn's lap, while he's snuggling close to her and planting a kiss on her cheek. Awww! Fans were devastated when these two announced their split in mid-March, so this PDA is definitely a refreshing sight for many ZiGi fans to see!
Of course, there's already been indication that these two were getting back together in the weeks since their breakup. First, Zayn was spotted leaving Gigi's New York City apartment on April 18. Then, at the end of April, they were caught (on video) kissing on the streets of NYC. He was seen at her apartment again in May, as well. However, Gigi's Instagram story is the first time they've posted any evidence of the reconciliation on their own accord.
Zayn and Gigi were together for more than two years when they broke up in March. They each confirmed the news with separate statements posted to social media, in which they gushed over one another and promised to continue to have "respect" and "love" for each other.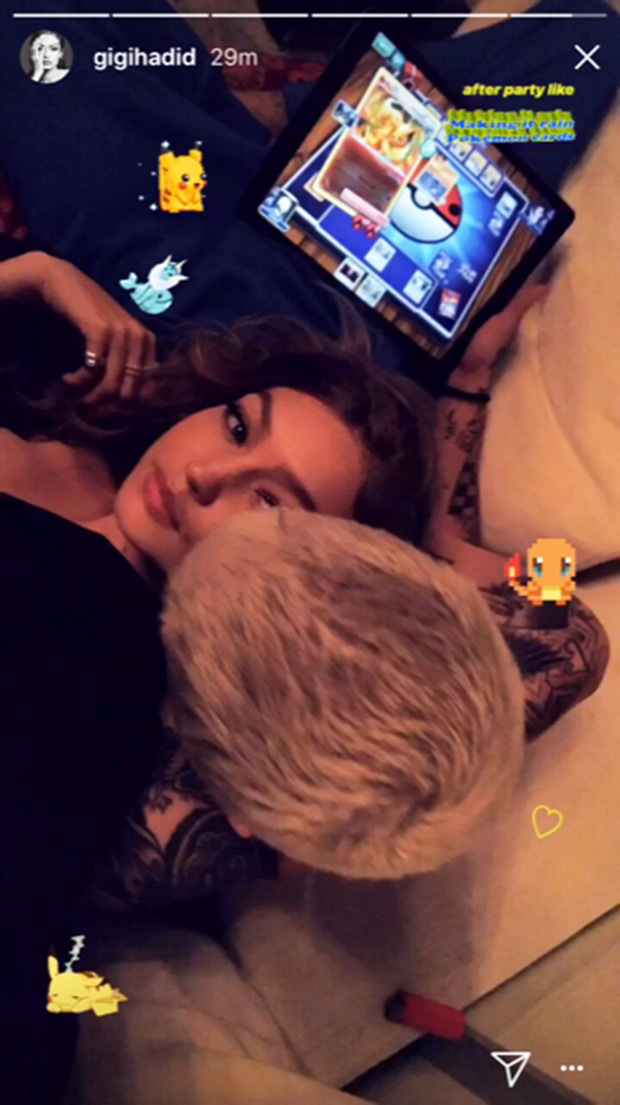 As HollywoodLife reported EXCLUSIVELY last month, things might be even more serious than before the split now that these two are back together. "Zayn is desperate to lock Gigi down, so he wants to propose," an insider told us. "The breakup changed things for Zayn. He's terrified of losing Gigi and wants to put a ring on it." WHOA! We'll be on the lookout for a rock on her finger, that's for sure…