'Younger's Sutton Foster & Hilary Duff: There's Some 'Major Rebuilding' After Premiere Shocker
June 6, 2018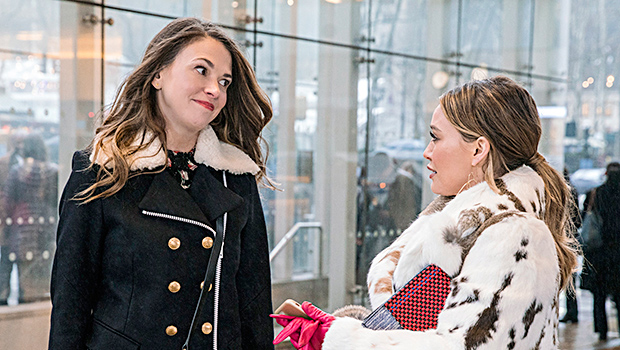 'Younger's Sutton Foster & Hilary Duff: There's Some 'Major Rebuilding' After Premiere Shocker
Holy twist alert! 'Younger' dropped a major bombshell in the final moments of the season 5 premiere. HollywoodLife talked EXCLUSIVELY with Sutton Foster and Hilary Duff about how this will impact everyone going forward.
Well, Younger certainly didn't waste any time! After coming under fire for alleged sexual harassment, author Edward L.L. Moore exposed Liza's secret, leaving Charles completely blindsided. "She represents herself as a young woman in her 20s. The fact is, she's a divorced 40-something housewife from New Jersey," Edwards says to Charles, before handing over Liza's birth certificate and marriage license.
After 5 seasons, Charles finally knows Liza's secret. Needless to say, this is going to change everything. HollywoodLife spoke EXCLUSIVELY with Sutton Foster and Hilary Duff at the show's season 5 premiere on June 5 about where the show goes from here — in all aspects. "It's going to complicate things greatly," Sutton told HollywoodLife. "The last thing Empirical needs is another scandal and more drama as they're settling from the Edward L.L. Moore drama. Charles has been betrayed and fooled and he doesn't know who the hell he's been working with. There's some major rebuilding and major restructuring. It kind of flips the world upside down, the Younger world as we know it."
Another one of the show's biggest shockers was that Marriage Vacation, which was supposed to be Millennial's breakout hit, was handed over to Empirical behind Liza and Kelsey's backs. This tension between Empirical and Millennial isn't going to go away any time soon. "It's a big focus of the season because Millennial begins to outshine Empirical and these young voices are on the rise. It's definitely something that we deal with throughout the season," Sutton continued.
Hilary added: "I think it's one of the ways our show deals with ageism in both ways where Kelsey and Liza, and Liza has people under the impression that she's the same age as Kelsey, are not getting the respect they deserve with decisions we want to make and books they want to take on and authors they want to work with. Charles is putting the kabosh on it or taking our stuff. It's hurtful and deals with — is this feminism? Is this ageism? What is this? But it's definitely a focus throughout the whole season."