Walker Hayes: Country Singer Cancels CMT Awards Appearance After Newborn Daughter Dies
June 7, 2018
Walker Hayes: Country Singer Cancels CMT Awards Appearance After Newborn Daughter Dies
This is just devastating. Walker Hayes was due to make his CMT Awards performance debut but his newborn daughter died just hours before the show. We've got the sad details.
This was supposed to be country singer Walker Hayes' big night, making his debut at the 2018 CMT Awards on June 6. Instead it turned out to be the worst day of his life as his newborn daughter Oakleigh suddenly died just hours before the show. In a heartbreaking Instagram post, he shared that he and wife Laney had lost their precious baby. "It is with great sadness that Laney and I share with you the news that our sweet Oakleigh Klover Hayes was born this morning at the hospital and now is safely in heaven," Hayes wrote a statement. "Thank you for honoring our privacy as we grieve."
He added that all immediate performances have been cancelled so he can be with his wife and six other children during this heartbreaking time. The couple are parents to three boys and three girls, with the eldest being 12. He had joked earlier this year that this baby was going to be the "tiebreaker." Hayes didn't give any details of what caused the infant's death just after her birth. The 38-year-old Mobile, AL native was due to perform his first breakout country radio hit "You Broke Up with Me" on the Ram Trucks Side Stage at the CMT's. This would have been one of the biggest nights of his career and he had talked about how much he was looking forward to it before such a terrible tragedy struck.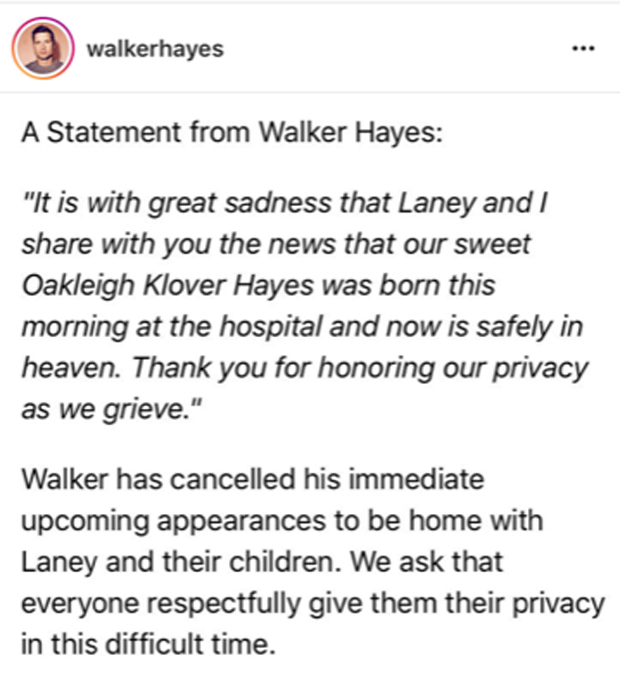 Hayes told CMT.com ahead of the awards show that, "I'm going to be nervous as crap, but the house band is amazing. I feel comfortable with them. The fans are going to be amazing I'm sure. It's going to be neat to look some peers in the eye and have that moment where I'm like, 'Hey, this is happening, and we always said it would.' And it is. I'm sure it's going to be a blur and take me a minute to digest what really happened." Instead of getting to give his dream performance, he's now grieving the loss of his infant daughter.