Tori Spelling And Dean McDermott Have Made The List Of California's Top Tax Delinquents
June 5, 2018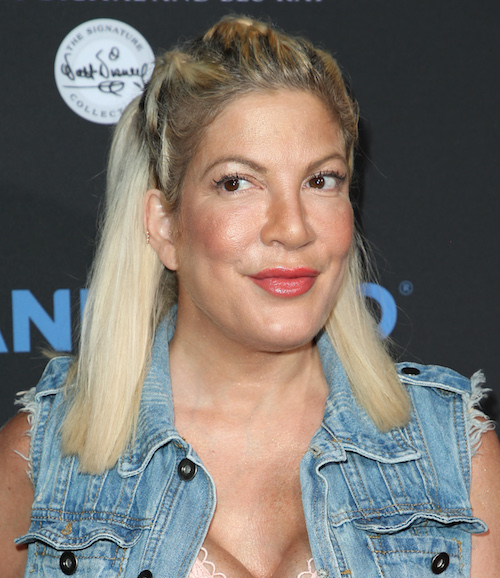 Tori Spelling is probably so proud of herself for finally achieving something besides popping out kids or family drama, that she's begun planning an insanely expensive "Congratulations to ME!" party complete with a six-foot tall cake covered in edible dollar bills and fondant final notice warnings.
Tori Spelling and Dean McDermott owe a lot of money to a variety of banks and tax collectors. Page Six says that Tori and The Deaner's absentee tax money has gotten so bad, the State of California has added their name to a list of the 500 most prolific tax delinquents. They owe $282,655. That's a lot of money to owe, but they're not anywhere near the worst offenders. Chris Tucker reportedly owes $1.2 million. Ted Field, son of Marshall Field IV, owes $20 million. However, Tori and The Deaner owe more than Xzibit ($232,000) and Macy Gray ($241,000).
The list doesn't have any real repercussions; it serves only as a way to embarrass everyone who isn't paying California.
If California wants to see any of money, I think I might have a solution. All of those names above sound like a potential cast list for a reboot of The Surreal Life called The Surreal Life: Tax Trouble$. They could just make their money back through advertising. Except the only problem is, Tori and The Deaner would no doubt end up costing them money. "Lookee here, everyone! Your new pal The Deanerino just got himself a jetski for the house pool! I just leased it in the production company's name at a 69% interest rate. Hehe…69."
Pic: Wenn.com