The Real Housewives of Potomac Recap: Barefoot In The Park
June 4, 2018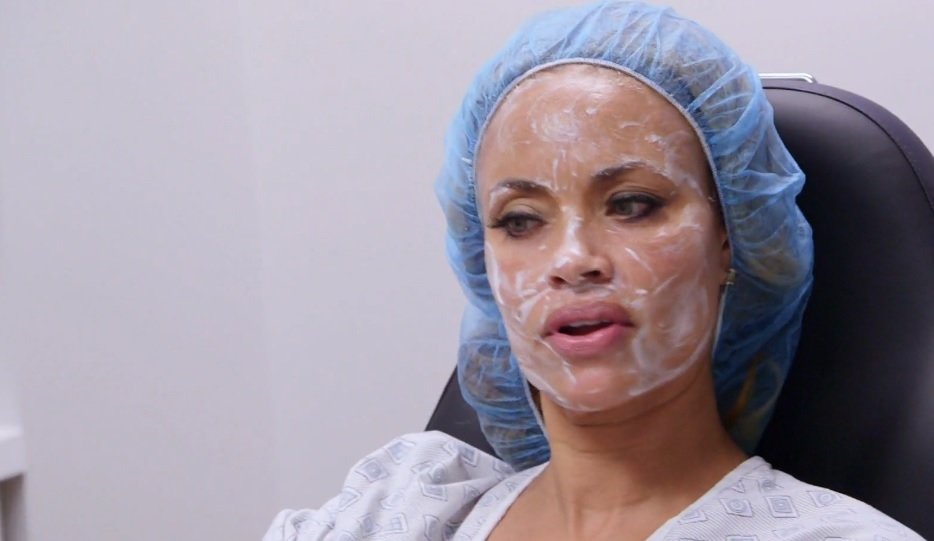 Can I just say out loud how much I'm enjoying the Real Housewives of Potomac this season? Not only have the women stepped up their crazy, but their men have also come to play. I never expect the guys to partake in the fracas, but Juan Dixon and Michael Darby (and let's not forget the very absent Sherman 2F) were more than up for the challenge this week.
We check in on everyone starting their day. From making breakfast to shopping to yoga, these women are living the good life. Gizelle Bryant is starting her day by visiting her local vampire dermatologist to get her own blood transferred into her face. The transfusion increases collagen, and if I can look as good as Gizelle afterward, count me in! Robyn Dixon is there for moral support. Gizelle says she is having a little birthday get together with all the ladies. Well, not the Chihuahua formerly known as Candiace Dillard who came at her yapping and nipping at her heels when they were in Nemacolin. Gizelle is going to kennel that bitch for a while until Candiace stops peeing on the carpet and generally misbehaving. The other no-show is likely Sherman 2F (yes he's once again 2F and we find out later from Monique just how many F's ol' Sherm actually gives).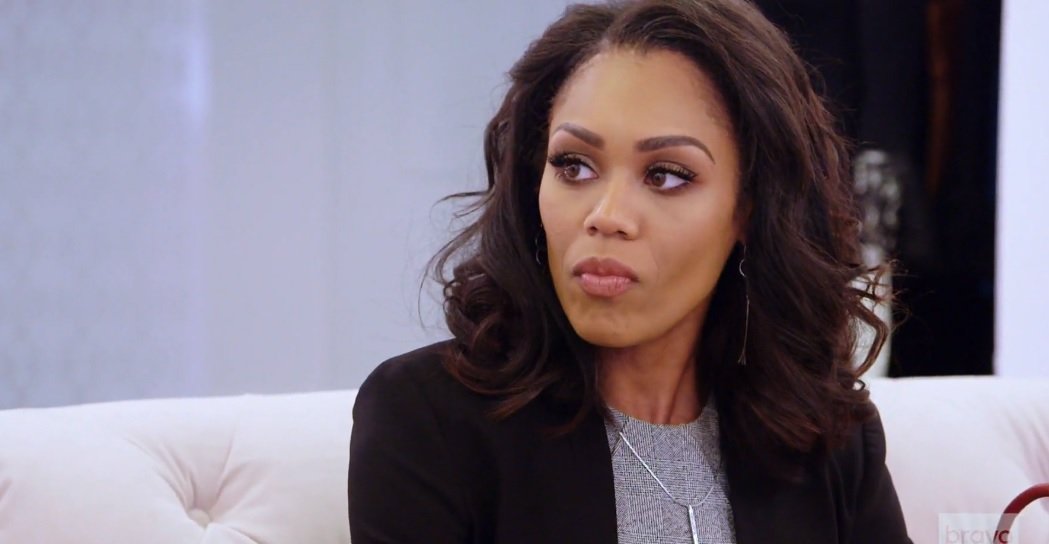 Across town, Monique Samuels and her seriously gorgeous mom are shopping for a ball gown. Also with them is Monique's friend Gigi. Gigi and Mo both need dresses for a gala that Monique is headlining. She is very happy that she has been asked to do this not just as Chris Samuel's wife, but as herself (a Bravo-lebrity). Her event is the coming Friday.
We cut back to Gizelle and Robyn. Robyn is talking about her upcoming women's empowerment event, but it's hard to focus because we are looking at Gizelle's face as the doctor spreads on the blood. Just…yuk. But google it you guys: For $1,400 (plus tax) you too can put a blood mask on your face. Aaaanyway…Robyn's conference event is also on Friday. Uh-oh.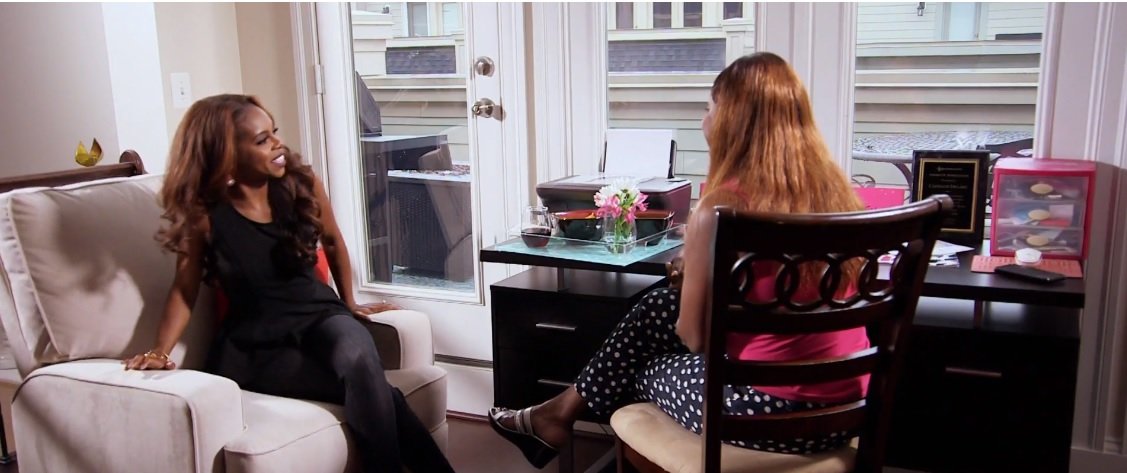 At their co-owned townhouse, Candiace brings her mom (Dorothy) Triscuits, chips, and a glass of wine. She needs her mom to carb load for the serious conversation Candiace needs to have. Candiace is ready to take her online hair extensions to the next level with a brick and mortar salon. She needs her mom's seed money but not her advice. Candiace admits that she's talked to Chris about it, and he says since her mom is the investor, she will always want a say in it. Dorothy is very happy to hear this and will let Chris live another month. As Candiace downs her mom's glass of wine and looks around for the bottle, her mom tells her that she's a hardworking diva, but she knows Candiace doesn't like to take advice. Okay, sidebar: I'm starting to think Candiace's mom would make more sense as one of the housewives. First of all, she has money. Secondly, she's more age appropriate to Karen, Gizelle, Robyn, and Charrisse. Has there ever been a housewife replaced by her own mother? This would be the height of Andy Cohen shade and I believe he is absolutely up to the task.
Back to the show.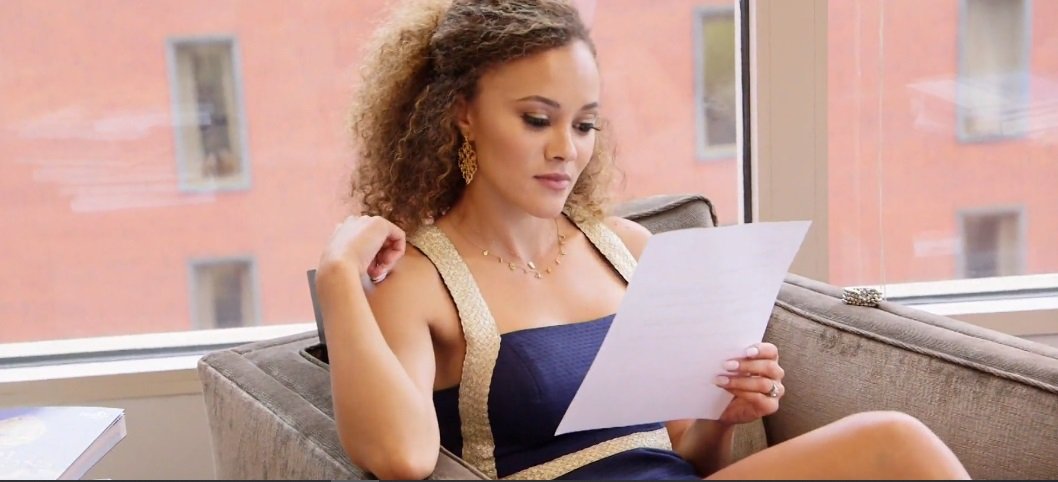 Ashley Darby shows up at Michael's office for a visit. He annoyingly spends the entire time he's in a standing position on his hoverboard. Ashley comments that Michael looks like Morticia Addams and I love it because (a) he does and (b) someone as young as Ashley gets the reference. Ashley is dressed up because she wants some of that lovey-dovey stuff. For a while, when they were separated, there was no loving to be had, physical or otherwise. Michael disagrees. He's always felt physical and Ashley wonders if he was holding out just to be mean. Michaels reply? "Oh look. It's raining." (HUH?!?) Then he doubles down on his douche-baggery and tells her he assumes she has signed the extension of their prenup and by the way she should NOT consult an attorney beforehand. Ashley explains to us that their first prenup stated that if they divorced before 3 years then she got a small lump sum but after 3 years it is half (which is MUCH more). This extension is for 5 years. Ashley wants to prove she's in the marriage for all the right reasons. Michael jumps up and grabs the new prenup (I guess this is called a post-nup). Can Ashley read it first? Oh Ashley, really? Can you? Will you? Nope! Michael shoves a pen in her face and offers her a beer. She has a few questions such as when would she get the smaller lump sum if they get divorced before 5 years are up? Michael is NOT discussing this on camera! He would never use Bravo cameras as a negotiating tool. This isn't a game! This is a serious document! Ashley wonders if Michael ever believed that she was only in the marriage for the money. Michael would have been an idiot (or lying) if he said no, but he admits yes, especially considering Ashley is a hot young pretty girl and he is…well…Michael. Ashley wants to prove she's in it for love, and signs without hesitation or legal counsel.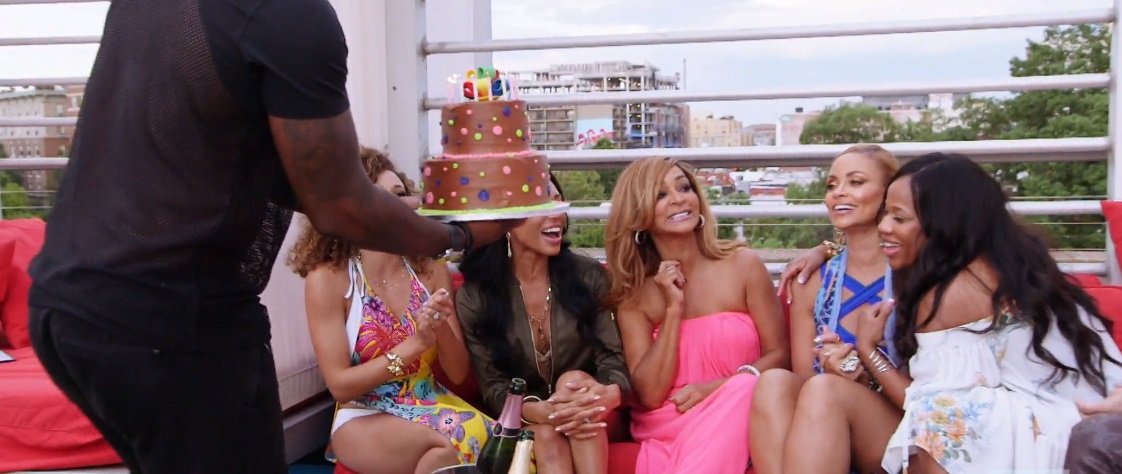 It's the day of Gizelle's birthday party at Penthouse Rooftop Pool. Robyn and Gizelle are the first to arrive, and they toast to Gizelle, the Green-Eyed Bandits, and leaving the haters in the dust. Speaking of haters, the rest of the housewives (minus Candiace) arrive. Gizelle asks Karen Huger where she has been because no one has seen her since the Scentertainment Party. Karen says she just needed a break from all the crazy. Gizelle is all innocence, but Karen says Gizelle likes to light a match and then sit back and watch everyone else goes up in flames. Gizelle objects! That's just a little Tobasco to spice things up. To prove just how much stirring she likes to do, while she is serving cupcakes and Champaign, Gizelle tells Charrisse Jackson that she is SHOCKED that she declined Robyn's invite to her conference. Charrisse says she's not playing favorites; she already RSVP'd to Monique, so unless she can find her doppelgänger by Friday, she's sticking with Monique. She's not picking Monique over her 14 year (yadda yadda) friendship with Robyn guys! Robyn decides it's time to flee the situation and Monique is like "Peace out, B****." Even though Gizelle's friend Cal showed up with a cake, Sherman is a no-show. Everyone is asking, "Where's Sherman?" Maybe he's just not that into her…
Later Robyn meets Candiace for breakfast. Even though Gizelle doesn't care for Candiace, the girl tickles Robyn. Candiace asks about Gizelle's birthday party. Robyn mumbles that she was missed, but it's uncomfortable and I never like it when anyone is not invited to something as open as a birthday party. Is this girl a member of the cast or not? Anyway, Candiace will be going to Robyn's Women's Empowerment Conference since she is an entrepreneur and needs all the help she can get. Karen comes in late and is all apologies. Robyn wants to know if Karen is coming to her event or Monique's. After all, Karen did say yes to Robyn, but now she is saying no. She's actually going to Monique's. She tries to blame it on Siri. I would love to play poker with Karen someday. She has a definite tell whenever she's lying. Is she talking really, really fast? Yes? Then she's lying. Robyn's irritated. After all, she goes to all Karen's events and even talked to her on the phone for hours when Karen first had her tax problem. Sure, she may have gossiped about every little detail, but she was there! She puts Karen down as a "no" and makes a mental note to get Gizelle on board to take Karen down.
Ashley, Michael, Monique, and Chris all meet up at the bowling alley. There are bad bowlers and then there is Monique. But it's all in good fun and the Darbys win the game. After the game, the conversation turns to babies. Ashley wants one right away, but Michael wants to wait. Monique then asks Ashley if she's coming to her Gala, but Ashley says she already had RSVP'd to Robyn. Monique lets it slide (for now) and turns to the fact that Sherman was a no-show at Gizelle's party. Monique says maybe Sherm was in the parks. What could that possibly mean? Well! Apparently, Charrisse is good friends with Sherman's ex. After all, Charrisse's husband was Sherman's coach once upon a time. Monique was introduced to the ex a while back. She tells Ashley that a few years ago, Sherman was arrested in a park. He and his lady friend were…well…Monique called it a job and the police caught them. This is why he and his wife broke up. Where does Gizelle find these guys?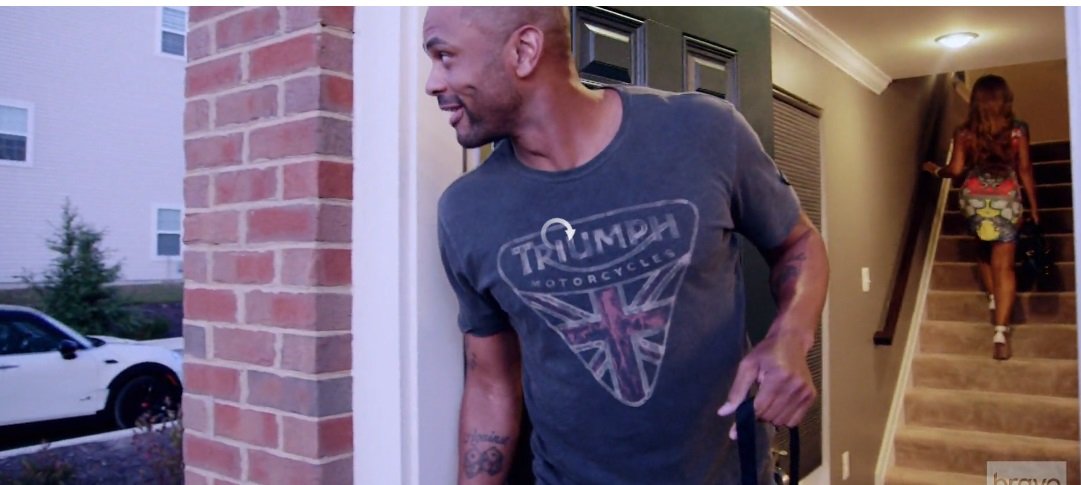 Out in Hanover, Robyn and Juan are cooking in anticipation for Gizelle and Sherman to arrive. They're both happy that they will have 'couple friends' to hang with. Juan remembers playing against Sherm in the NBA so they have a lot to talk about. The doorbell rings and Juan answers. Gizelle is there alone. Where's Sherman? Oh, Gizelle has lots to tell him about ol' Sherman. I think Juan decides to mess with her for fun. He looks out the door then asks if she's joking. He calls out, "Sherman!?!" No, Gizelle has had a long, bad day and broke up with Sherman. Juan keeps asking if this is a joke. I swear he's just being shady for fun. Gizelle asks for a glass of wine and then tells them the story. At first, she and Sherman agreed to counseling. He wanted another perspective to see if he should even be in this relationship. Juan suggests that maybe Gizelle was moving too fast. It's been a year and a half Juan Dixon! How much time does one man need? She fought for the relationship, but Sherman didn't. Juan says that maybe she doesn't really know what Sherman has endured in his life. That's all well and good, but the fact remains they are done. Gizelle declares that next time she'll be more cautious. She won't give her heart easily nor will she introduce her girls to any man until she knows for sure that the relationship is forever.
Tell us: Would you have signed the extension of the prenup without a lawyer? Were you shocked about Sherman's arrest in a park?
Author: Dana S.
Photo Credit: Bravo TV