'The Fosters' Series Finale: Co-Creator Bradley Bredeweg Says Goodbye, Talks Impact Of Show's LGBTQ Storytelling
June 7, 2018
'The Fosters' Series Finale: Co-Creator Bradley Bredeweg Says Goodbye, Talks Impact Of Show's LGBTQ Storytelling
The time has come to say goodbye to what can arguably be TV's most progressive family in history — or as some of the kids may say these days: TV's most "woke" family. Created by Bradley Bredeweg and Peter Paige, The Fosters ended its five-season run tonight after providing television landscape with a series that gave a new meaning of a modern family. The Fosters tackled normal family drama such as sibling dynamics, teen angst, parent-child conflict, and domestic strife, but the Freeform series bent the traditional narrative to the times with a same-sex couple of Stef (Teri Polo) and Lena (Sherri Saum) raising a blended family that included Brandon (David Lambert), Stef's biological son, twins Jesus (Noah Centineo) & Mariana (Cierra Ramirez) and Callie (Maia Mitchell) and Jude (Hayden Byerly).
Related
'Cloak & Dagger' Review: Subdued Marvel Series Less Concerned With Superhero Flair, More Socially Aware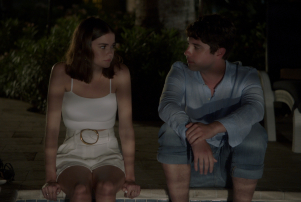 Tonight's episode titled "Where the Heart Is" was the bookend of a three-part finale that began on Monday. The grand finale probably had many fans reaching for the tissues as they saw loose ends get tied up (including closing the chapter on Brallie) The ultimate sob-worthy moment was when we got to see the Foster clan walk out of the house one final time to go on their separate journeys — particularly Callie and Mariana as they embark on the next phase of their young-adult lives in Los Angeles with the spin-off Good Trouble. But saying goodbye to the family was really tough for Bredeweg.
The Fosters covered a lot of ground when it came to incorporating social issues into episodes — including LGBTQ narratives. Gay storylines were never put at the front and center as much as they were in The Fosters. The show broke ground with two central female lesbian matriarchs as well as Jude, who explored his sexual identity throughout the series and had the youngest same-sex kiss in the television history.
Deadline talked with Bredeweg about the end of the series, how much Six Feet Under influenced the finale, what we can expect from the forthcoming spin-off Good Trouble, and how the show's queer storytelling left its mark on television.
DEADLINE: How does it feel to have the show come to an end?
BRADLEY BREDEWEG: I mean, I've gone through a lot in life and this is perhaps one of the hardest most emotional moments. This show has meant a great deal to all of us – it's truly been the gift of a lifetime.
DEADLINE: Is the ending of The Fosters what you envisioned when you initially started?
BREDEWEG: I wouldn't say that. I think we knew we would have to go back to the Brallie well and really and truly wrap up that storyline for good, but I think as any good character driven series progresses, there are always surprises and new ideas that constantly open up over the seasons. I think we were constantly surprised at the twists and turns the series took – and so the final episodes organically came out of our writers room process. It slowly revealed itself over the final season.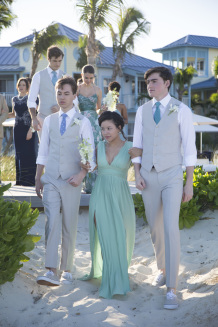 DEADLINE: Was there a never-ending stream of tears when shooting the final episode?
BREDEWEG: Oh you have no idea! I would say there were a never-ending stream of tears starting with our 100th episode all the way through the final three. We had the luxury of knowing that we were going to wrap up the series, so every milestone along the way brought tongs of family hugs and tears and reminiscing. I should have bought stock in Kleenex. I think our cast and crew kept that company in business.
DEADLINE: Were there series finales that you looked to for inspiration for saying goodbye to The Fosters?
BREDEWEG: My favorite finale of all time was Six Feet Under and anytime Peter, Joanna, and I talked about our final episodes, I would constantly reference Six Feet Under. I thought that final episode was pure perfection. We share something in common with them in that we do fast forward in time a little bit (although not over an entire lifetime, like they did) but I feel like we managed to fast forward in time enough to give the viewers a glimpse into the directions that all of our characters will be heading in post the finale. Just enough of a slice of life after they leave behind that house. Luckily we'll be able to check in with all of them from time to time on the new spin-off, Good Trouble.
DEADLINE: Since season one, the LGBTQ narratives have been integral to the show. How careful were you in portraying these stories?
BREDEWEG: It was one of the most important elements of the show. I wouldn't use the word careful though. I would say that we tried to be as authentic as we could to the LGBTQ experience. The community has embraced the show so beautifully so we did everything in our power to represent it to the best of our abilities. And like human beings, nothing is perfect so we didn't want to be too careful. We wanted to show the real, messy, sometimes imperfect ways of life across the board.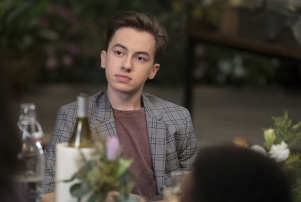 DEADLINE: Does the inclusive storytelling reflect your writers room? If so, did you actively seek out a diverse writers room?
BREDEWEG: We do – it's an important part of our world and our process. We like to have different people from different backgrounds reflecting on their own journeys and their own personal experiences in the room. For us, it was always about finding the best writers and a good combination of different stories and experiences more than anything else.
DEADLINE: Not many of seen the story of Jude played out on TV. When planning his arc as a young gay man, what was most important to you?
BREDEWEG: To be as authentic to the process as possible. We really wanted to take our time with Jude and to earn each and every moment that any teenager goes through while discovering and uncovering their sexuality. Whether straight or gay, we all have the first crush, then the first kiss, which leads to exploring sex. We knew we wanted to highlight each milestone along the way without anything feeling forced or trite.
DEADLINE: Did you plan on having the series end during Pride Month? Or was that just a coincidence?
BREDEWEG: Just a beautiful coincidence like so many beautiful coincidences on our show. For example, Stef and Lena got married – the very day that we shot their wedding – on the exact same day that the Supreme Court over-turned Prop 8 in California. So there we are, in tears watching Stef and Lena say "I do" in video village, while other couples across the state were storming courthouses all over to get their marriage licenses.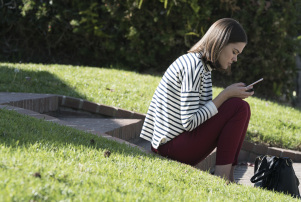 DEADLINE: For you, what is the difference between inclusion and tokenism?
BREDEWEG: Inclusion is about being as authentic as possible, about the real human experience whereas tokenism is about the effort to focus on an underrepresented group of people in order to give the appearance of equality, of racial or sexual equality. Again, we wanted to be a show about family, about what it's like to be in love and to raise a family in modern day America. Nothing more, nothing less. I'd like to think we succeeded at being inclusive because we always approached the storytelling and filmmaking process from as pure a place as possible.
DEADLINE: The Fosters may be coming to an end, but that doesn't mean its totally over. Good Trouble continues their story, but will it be the same tone of The Fosters or can we expect a different kind of show?
BREDEWEG: I think Good Trouble will have familiar elements, but we are telling a more grown up story in a more grown up and broken world. The show is all about twentysomethings who band together in order to take on an increasingly difficult and challenging world – and so the show will definitely be a little more raw and a lot more cinematic in its style in order to highlight and explore the sever highs and heart-breaking lows of young adulthood.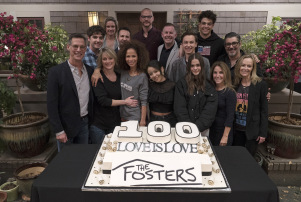 DEADLINE: Am I right to say that cast members from The Fosters will pop up in Good Trouble? How often?
BREDEWEG: You are so correct and as often as we can get them. So many are moving on to other things, but when the stories organically call for the moms or for Jude or for Brandon and Jesus – then we will call upon them and if they are available to us, we will jump at the chance to bring them back into our world.
DEADLINE: Some people called The Fosters one of the most woke shows on TV. If there is one thing that you hope the television landscape takes away from the show, what would that be?
BREDEWEG: I hope that five, ten, fifteen years from now, people will go back and re-visit the show – or watch the show for the very first time and think, my god the world was a little messed up back then – did we really treat people with so much inequality and disregard? I hope we represent a time in our history in which we faced those challenges head on and highlighted how our country and our society needs to do a better job at taking care of each other – of celebrating our differences rather than tearing them down. I hope a decade from now we are on to other issues like taking care of this planet or bettering our education system, instead of taking down each other or dividing and conquering our differences. I also hope that this family brought a beacon of light into a very difficult time in our history. I think The Fosters represented the best of this country. This family is no different than anyone else's – you know? We all love, we all hurt, we all fall apart – but if you have a strong family unit, then you see each other through the difficult challenges of life while you celebrate the milestones or even the tiny little victories. The Fosters was an American family, with American values, that represented the American dream.