'The Challenge: Final Reckoning' Cast Revealed: Johnny Bananas, CT & More Faves — Pics
June 6, 2018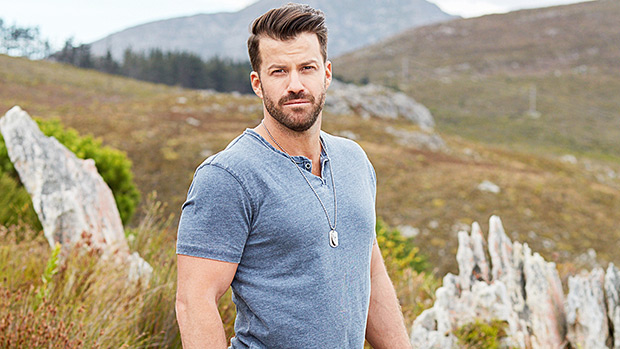 'The Challenge: Final Reckoning' Cast Revealed: Johnny Bananas, CT & More Faves — Pics
MTV's new season of 'The Challenge: Final Reckoning' is coming soon. The cast has been revealed and features some of your favorite 'Challenge' stars from over the years. See the photos and full cast list now!
The Challenge: Final Reckoning will premiere July 10 at 9 p.m. on MTV. Final Reckoning will be the conclusion of the series trilogy that includes XXX: Dirty 30 and Vendettas. MTV has unveiled the cast for Final Reckoning, and it's going to be one hell of a season. From Cara Maria to Johnny Bananas to CT Tamburello, Final Reckoning is putting the best of the best up against each other in the ultimate *challenge.* Oh, and new couple Jenna Compono and Zach Nichols are also competing!
Can you believe it's already the 32nd season of The Challenge? Despite the number of seasons, the show hasn't let up on the intensity. In fact, it's tougher than ever. The cast will travel to South Africa for the season and battle their biggest rivals for $1 million. Check out the cast below and see their Final Reckoning photos in our gallery now!
Amanda Garcia
Amanda is an Are You the One? alum who never backs down from a fight, no matter who it's with.
Angela Babicz
Ex on the Beach's Angela is an unusual mix of tough and sensitive. But in a game that's known for preying on people's weaknesses, she'll definitely need to kill her sensitive side and be tough as nails.
Brad Fiorenza
Last season on Vendettas, Brad didn't win it all, but he found love with Britni. A proud father of two boys, Brad needs a W more than ever in order to make life better for his little ones.
Britni Thornton
Britni is free spirited and always down for a good time. Even though she's aligned herself to her veteran boyfriend Brad, Britni wants to be known for her athleticism and has spent the offseason training for battle.
Cara Maria Sorbello
Vendettas champion Cara Maria is one of the most accomplished veterans of all time, with multiple The Challenge wins under her belt.
Chuck Mowery
A rookie this season, Chuck is a model who recently recovered from a cliff diving accident that nearly led to a leg amputation.
CT Tamburello
Multiple The Challenge wins, fearsome elimination performances, legendary fights and a distinctive mumble are what make Boston's own CT one of the most legendary characters to ever grace The Challenge.
Da'Vonne Rogers
A Big Brother alum, Da'Vonne is sassy, manipulative and not afraid of anyone. She's a proud mama bear to a daughter, so winning would be great for the family.
Derrick Henry
Derrick's rookie run on Dirty 30 ended almost immediately, whereas his girlfriend at the time, Tori, made it to a Final and dumped him for the season's 1st place winner: Jordan.
Faith Stowers
More than just a pretty face, Faith was an accomplished collegiate athlete, spent six years in the US Army, and is a veteran of Vanderpump Rules and Ex on the Beach.
Jemmye Carroll
Southern sass queen Jemmye is a social media consultant and the owner of an online boutique, but what she really loves more than anything is gossip, jokes and drama.
Jenna Compono
Jenna is thrilled to be dating Zach again and has visions of the two of them making the Final together. Making the Final is nothing new to her – what would be new is actually winning one.
Johnny 'Bananas' Devenanzio
With the most Challenge wins in history, Bananas hopes to dodge the usual arrows that get fired at the king from all sides. Bananas hasn't won a season since stealing all the money from his Rivals III partner Sarah – and some might say he's been cursed.
Joss Mooney
As a British model and Instagram star, Joss is hotter than a volcano, and he made quite the impression on the ladies during his rookie season on Vendettas.
Jozea Flores
Manipulation and survival are two skills Jozea learned on Big Brother and then honed on Champs vs. Stars. He hopes to win it all so he can invest money in his music career.
Kam Williams
Kam has jokes for days and enough swag to make a queen jealous. A cutthroat political strategist, she is also a ferocious elimination competitor, entering this season undefeated in that arena.
Kailah Casillas
Kailah's polarizing personality and fearless game moves often rub people the wrong way. Despite that, she managed to make the Final on Vendettas but was devastated with her fourth place showing.
Kayleigh Morris
Last season on Vendettas, Kayleigh got swept up in a dangerous love triangle with Bananas and Nelson, which led to a group of girls throwing her suitcase off a balcony and Kayleigh quitting the game.
Kyle Christie
This hard-partying ladies' man started his The Challenge career on Vendettas and made it all the way to the Final, where he placed third.
Marie Roda
Marie is fiercely loyal, so she tries to protect everyone. Unfortunately, this sometimes means she doesn't look out for herself first, and often plays a scattered, emotional game as a result.
Melissa Reeves
Former pageant queen Melissa is a carefree party girl and DJ, who loves to flirt and socialize. However, she also has a nasty streak, which everyone discovered on Vendettas when she went toe-to-toe with Kam.
Natalie Negrotti
Natalie is a woman who stole Bananas' heart on Vendettas, but she made a lot of enemies along the way and constantly battles a reputation for fakeness.
Nelson Thomas
Nelson is the king of "almost" – he came in second place on Invasion and often leaves shortly before Finals.
Paulie Calafiore
Paulie is brash and loud, speaking his mind at all times no matter who hears him. This Big Brother villain thrives off his reputation for pissing people off and coming for the veterans' throats.
Shane Landrum
Shane has a hot temper and a penchant for drama. His skills are politics and water challenges, but sometimes he stirs the pot to the point where it boils over.
Sylvia Elsrode
If you want to get married in style, consult Sylvia, who loves her job as a wedding planner. Last season a medical situation sent her home early.
Tori Deal
After an impressive rookie season where she took home third place, Tori is back — this time to take home the crown.
Veronica Portillo
Veronica was a standout in the early days of The Challenge, earning multiple titles. However, some people wonder if her fire still burns brightly enough to win, or if she's just coasting.
Zach Nichols
Zach is a champion who got second place last season, but as we all know, second place is never enough when you're a winner.