Sex and the City Turns 20: Look Back at Every Wedding Dress the Girls Wore
June 6, 2018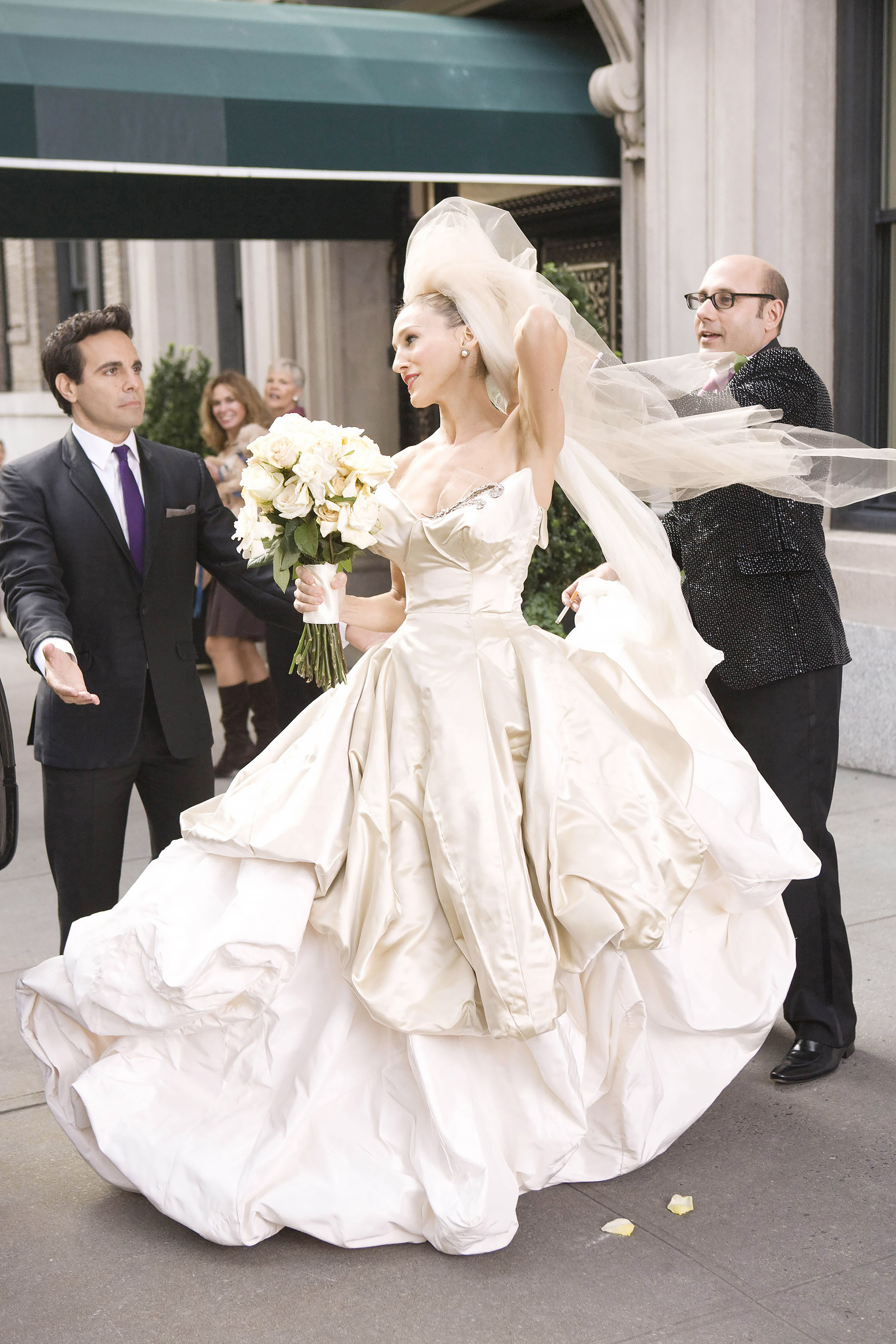 New Line/Kobal/REX/Shutterstock
June 6, 2018 marks a very important day in pop culture history. It's the 20th anniversary of the very first episode of Sex and the City. And to commemorate the day, we're wearing our Manolo Blahniks (obviously), watching re-runs on repeat and reading up on all-things SATC to bring back that mid-aughts nostalgia.
As a show that chronicles the dating habits of N.Y.C.'s singles scene and some majorly of-the-moment style, each wedding throughout the series was equally anticipated for the happy ending and the glorious gowns (well, in most cases). Carrie literally put a "bird on her head" to wed Mr. Big. Charlotte's two wedding gowns were just as classic as she was. And we almost forgot that Miranda wed in the most "Miranda" outfit imaginable. So in honor of their head-turning wedding day looks, here's a complete history of everything the Sex and the City characters wore on their big days.
Miranda Hobbs' Wedding to Steve Brady
The straight-talking lawyer stuck to her no-fuss style to say "I do" to boyfriend Steve. She wore a burgundy velvet skirt suit accessorized with an eye-catching layered beaded necklace for their intimate ceremony in a community garden. So quintessentially Miranda.
When Carrie and Miranda Go Wedding Dress Shopping
The recently-engaged Carrie and pregnant Miranda think it would be a funny "experiment" to go wedding dress shopping in a traditional bridal shop, and try on the pouffiest, most over-the-top creations they can find. But as Miranda points out, their experiment "went awry" (to say the least): Carrie has a panic attack and breaks out into a rash when Miranda can't unbutton the thousands of buttons holding up Carrie's cream-puff-type gown quickly enough.
Charlotte's Wedding to Trey MacDougal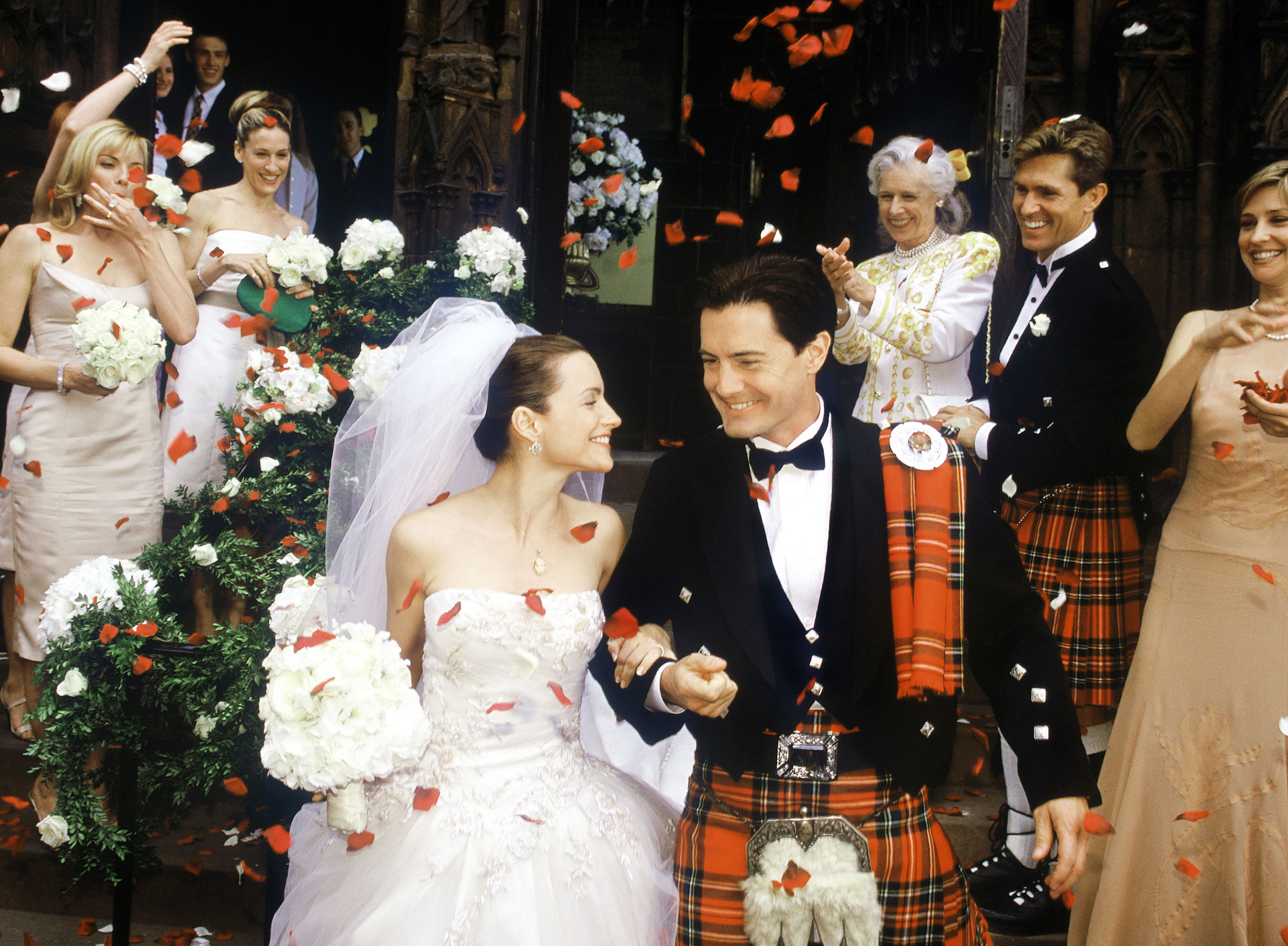 HBO / Courtesy Everett Collection
Charlotte wanted everything about her first marriage to be so picture-perfect that she even staged a second engagement in front of the Tiffany & Co. window to create a better story to tell their future children. So naturally, her dress was opulent, traditional and gave off major "bride on top of a wedding cake" vibes. She settled on a strapless lace Vera Wang design with full ball gown skirt, elaborate train and full veil.
Charlotte's Wedding to Harry Goldenblatt
For Charlotte's second wedding (to her divorce lawyer!), everything that could go wrong did. Samantha's bracelet breaks, Miranda starts a small fire, Harry saw Charlotte's dress before the big day. But as Carrie smartly pointed out to an unraveling Charlotte, "Look at your wedding with Trey: Wedding was perfect; marriage was terrible."
This time Charlotte chose a more subdued and elegant cap-sleeve curve-hugging sheath dress with delicate lace and criss-cross neckline detail and a shorter, simple veil. Though a less expected choice, it was the "perfect" one.
Carrie's first attempt at marrying Mr. Big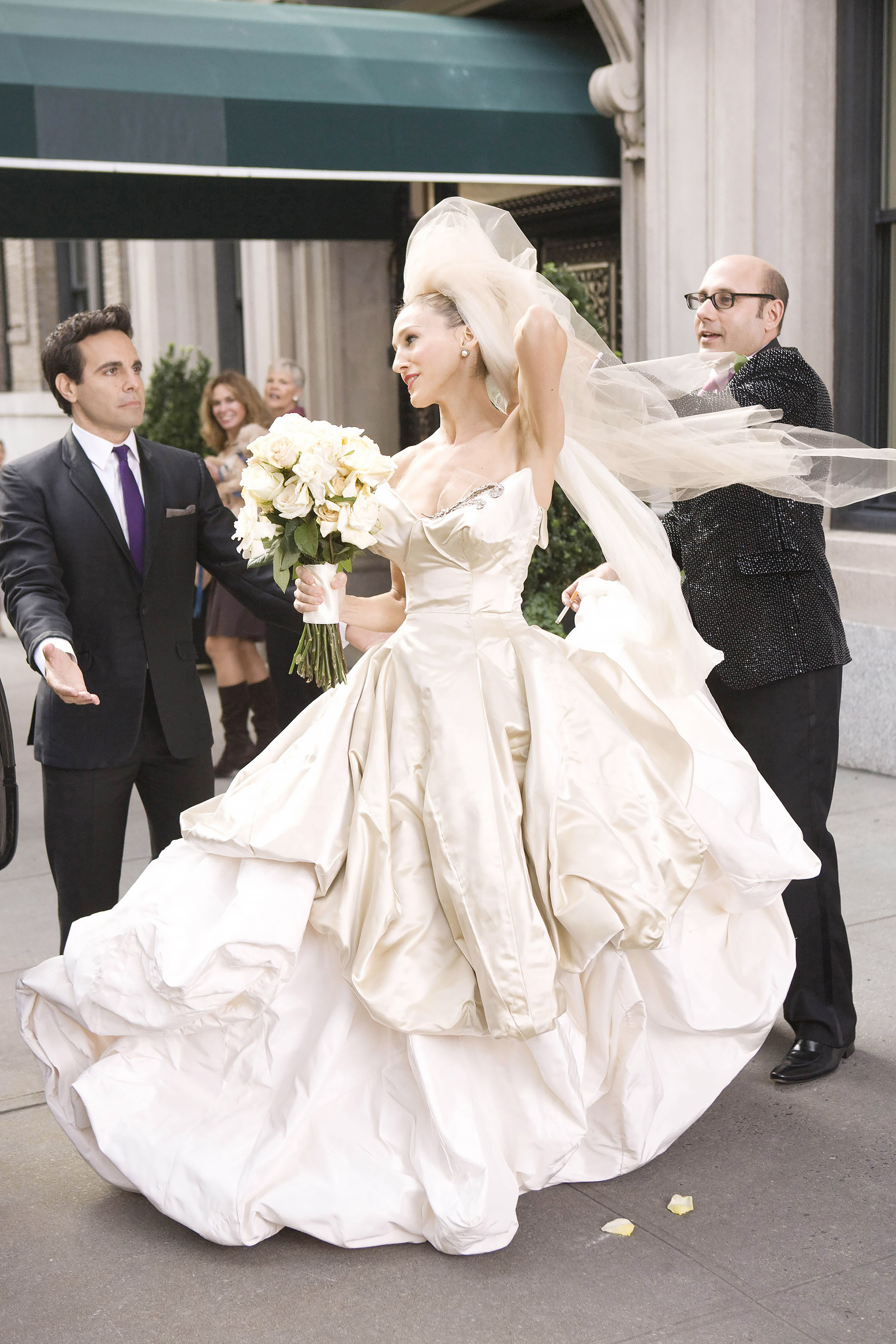 New Line/Kobal/REX/Shutterstock
Ahead of her wedding at the New York Public Library, Carrie was profiled in Vogue modeling an array of dreamy wedding dresses – so convincingly that designer Vivienne Westwood actually gifted her the enormous strapless gown she wore in the spread. But the fairytale dress actually causes her prince to bolt: with a dress that "upped the ante," Carrie expanded her wedding guest list from 74 to 400, causing Big to get cold feet and ultimately leave her at the alter.
Carrie's second attempt at marrying Mr. Big
Once Carrie and Big made up in Carrie's dream closet by "sealing the deal" with a pair of blue Manolo pumps, everything made sense again for the two love birds. This time, they knew better than to throw an elaborate wedding and went to City Hall. Carrie wore a label-less white suit from a vintage shop and said "I do" in her iconic Manolos. It was so casual and so perfect in the end.