Samantha Bee Apologizes Defiantly For Last Week's First-Daughter Slur On 'Full Frontal'
June 7, 2018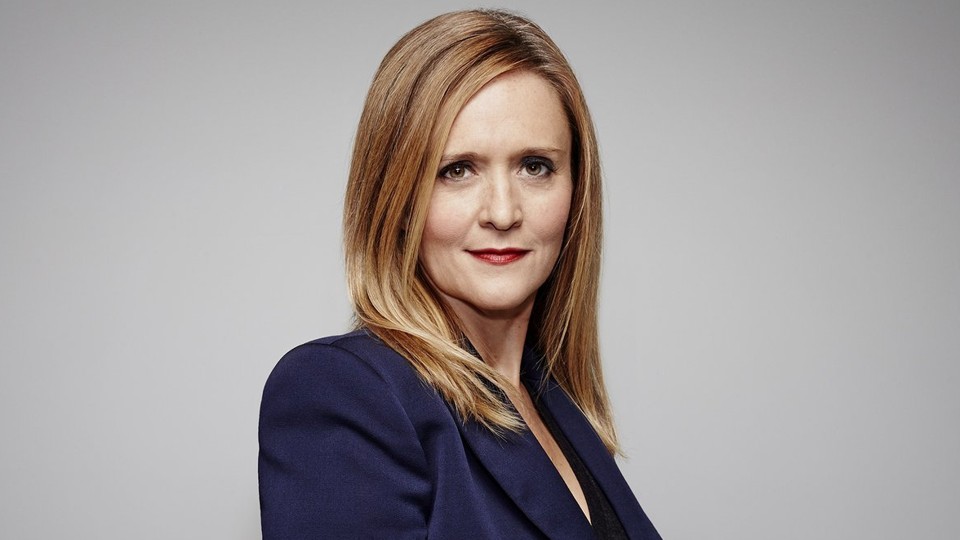 Samantha Bee Apologizes Defiantly For Last Week's First-Daughter Slur On 'Full Frontal'
UPDATED with video: Samantha Bee opened Full Frontal with a full-throated/defiant apology for having called White House Adviser/First Daughter Ivanka Trump a "feckless c**t" on last week's show – a line that earned her a Presidential tweet wondering why TBS had not yet sacked her and the late-night show that brought her to America's TV.
Related
Jon Stewart On Samantha Bee: White House
"Hi I'm Samantha Bee," she said, but only after a gigantic coral and purple TV-MA had filled the screen, so nobody could say they hadn't be warned.
Her first two minutes:
You know, a lot of people were offended and angry I used an epithet to describe the president's daughter and adviser last week. It is a word I have used on the show many times, hoping to reclaim it. This time I used it as an insult. I crossed the line, I regret it and I do apologize for that.

The problem is, that many women have heard that word at the worst moments of thelr lives. A lot of them don't want that word reclaimed. They want it gone. And, I don't blame them.

I don't want to inflict more pain on them. I want this show to be challenging and I want it to be honest, but I never intended it to hurt anyone, except Ted Cruz.

Many men were also offended by my use of the word. I do not care about that.

I hate that this distracted from more important issues. I hate that I did something to contribute to the nightmare of 24-hour news cycles that we're all white-knuckling through. I should have known that a potty-mouthed insult would be inherently more interesting a to them than juvenile immigration policy.

I would do anything to help those kids. I hate that this distracted from them. So, to them I am also sorry.

And look, if you are worried about he death of civility. Don't sweat it. I'm a comedian. People who hone their voices in basement bars while yelling back at drunk hecklers are definitely not paragons of civility.

I'm really sorry that I said that word. But, you know what? Civility is just nice words, may we should all worry little bit more about the niceness of our actions.

Thank you for listening.
It was Bee's third time apologizing for the segment on the previous Wednesday's edition of Full Frontal, in which she name called Ivanka for tweeting a pretty photo of herself with one of her children, instead of doing something about her father's immigration policy of taking children away from their parents.
Bee and producers had been working on tonight's opening since last Thursday, when she issued her first apology. "I would like to sincerely apologize to Ivanka Trump and to my viewers for using an expletive on my show to describe her last night," she tweeted, adding, "It was inappropriate and inexcusable. I crossed a line, and I deeply regret it."
That came after the White House torched Bee, her show, and TBS.
"The language used by Samantha Bee last night is vile and vicious. The collective silence by the left and its media allies is appalling," White House Press Secretary Sarah Huckabee Sanders scoffed via statement.
"Her disgusting comments and show are not fit for broadcast, and executives at Time Warner and TBS must demonstrate that such explicit profanity about female members of this administration will not be condoned on its network," she threw in, to boot.
Also early version-ish of tonight's remarks got a test run that same night when Bee attended the annual Television Academy Honors at NeueHouse Hollywood, an event to which the press was uninvited after Bee became a big headline.
"Every week I strive to show the world as I see it unfiltered. Sometimes I should probably have a filter," she said that night. "I accept that. I take it seriously when I get it right and I do take responsibility when I get it wrong." Then, as tonight, while expressing regret that a segment focused "on the atrocious treatment of migrant children by this administration and past administrations," instead "attracted controversy of the worst kind," Bee also chastized the media.
"We spent the day wrestling with the repercussions of one bad word, when we all should have spent the day incensed that, as a nation, we are wrenching children from their parents and treating people legally seeking asylum as criminals."
"If we are okay with that then, really, who are we?"
In the interim, President Donald Trump had weighed in, tweeting: "Why aren't they firing no-talent Samantha Bee for the horrible language used on her low-ratings show? A total double standard, but that's O.K., we are winning, and will be doing so for a long time to come!"