Nicole Kidman, Meryl Streep Feuding On 'Big Little Lies' Set?
June 6, 2018
Truth rating: 0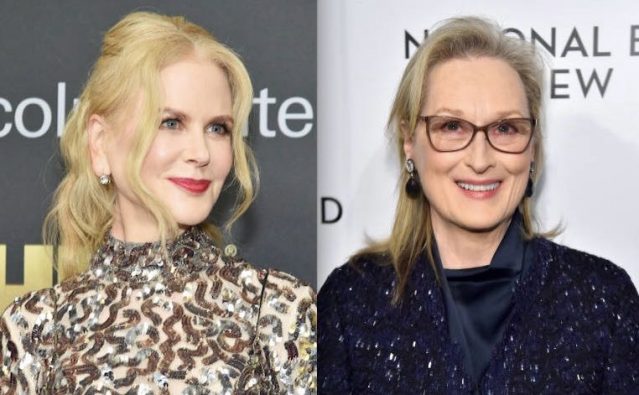 (Getty Images)
Nicole Kidman and Meryl Streep are not feuding on the set of "Big Little Lies," despite a made-up report in one of this week's tabloids. Gossip Cop can exclusively debunk the supposed drama. A rep for both actresses tells us the story is "completely untrue."
According to In Touch, the Oscar-winning actresses are clashing on set as they shoot Season 2 of the hit HBO series. An alleged insider tells the magazine, "Nicole feels she's the star of the show and is threatened by Meryl," who's a new addition to the cast. "Meryl has picked up on it and the two have gotten into it."
The unreliable outlet goes on to say that Kidman was initially excited about working with Streep, who's playing her mother-in-law on the upcoming season, but her mindset changed when they actually got on set. The questionable source says Kidman has become "paranoid" and thinks "Meryl and the other cast members are ganging up on her and planning to push her off the show."
The "source" further claims the friction between Kidman and Streep has become so heated that HBO execs held an emergency meeting "to figure out how they could diffuse the situation before it really got out of hand." The magazine's "insider" concludes that the supposed plan didn't work, adding, "Tension is still at an all-time high. The way things are going, I doubt there will be a Season 3."
The tabloid's premise is coming from an anonymous and untraceable "source," but a spokesperson for both Kidman and Streep tells Gossip Cop on the record there's no truth to the article. The two actresses have been close friends since first working together in 2002's The Hours. In fact, Kidman was the one who asked Streep to join "Big Little Lies."
Additionally, Kidman and Streep went bowling with the rest of the cast of the HBO series on Monday night. The Australian actress shared a photo of their outing on her Instagram stories, along with the caption, "Sunday night fun with our amazing #BigLittleLies crew." The actress's comment disproves the tabloid's claim she feels "other cast members are ganging up on her." One of the images even shows Kidman cheering on Streep as she bowls.
Conclusion: Despite what In Touch's alleged "insider" says, there are photos proving Kidman and Streep aren't feuding. In reality, the Oscar-winners enjoyed a bowling night with the rest of the "Big Little Lies" cast. If the two truly can't stand working together, they wouldn't be spending their downtime together. And while the tabloid hides behind a seemingly nonexistent tipster, a rep qualified to speak for both actresses tells us the report is complete fiction.