Netflix Confirms '13 Reasons Why' Will Return For Season 3 – Is Katherine Langford Out?
June 6, 2018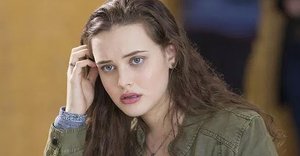 Netflix Confirms '13 Reasons Why' Will Return For Season 3 – Is Katherine Langford Out?
Netflix's controversial teen drama "13 Reasons Why" will return for a season 3.
The streaming site confirmed the news by sharing a teaser video on social media on Wednesday. In the clip, viewers return to the hallways of Liberty High School, where a student is seen grabbing a brown bag from a locker.
When "13 Reasons Why" returns next year, the series' breakout star – Katherine Langford – will likely be missing the action. The 22-year-old actress shared an emotional goodbye to her character, Hannah Baker, on Instagram shortly after the Season 2 premiere.
READ: Katherine Langford Says Goodbye To '13 Reasons Why' & Hints She Won't Return For A Season 3
'"Hannah…I love you…and I let you go' Those are the words I was able to say six months ago, and now can finally share with you…As most of you know @13reasonswhy was my first ever job and I am so grateful to have had the opportunity to tell Hannah's story so fully in season 1, and to be asked back for a season 2," she wrote.
"This show will always be a special part of my life, and regardless of whether Hannah is there or not, I know that I will continue to strive to do work that is meaningful and has a positive impact."
'13 Reasons Why': Devin Druid, Timothy Granaderos & Justin Prentice Talk Possibility Of Season 3
Co-star Tommy Dorfman seemingly confirmed Katherine's exit from the show after sharing this selfie to his Instagram on May 28.
"Gonna miss working w this goofball," he captioned the pic.
Production on the new season will resume later this year and is slated to premiere on Netflix in 2019. Like previous seasons, Season 3 of "13 Reasons Why" will consist of 13 episodes. Selena Gomez and her mom, Mandy Teefey, will return as executive producers for the series – alongside series' creator and showrunner Brian Yorkey.