'Nashville' Final Episodes Trailer: A Big Return, A Big Reveal, A Musical Love Triangle & More
June 7, 2018
'Nashville' Final Episodes Trailer: A Big Return, A Big Reveal, A Musical Love Triangle & More
"Sometimes there's a train leaving a station, and if you don't get on it your life will be different forever." Yes, the end is near for Nashville, CMT's venerable countrified soap whose final eight-episode run kicks off at 9 PM Thursday. Check out the new trailer that aired tonight during the CMT Music Awards.
Related
CMT Greenlights 'Bachelorette Weekend' Series From 'Jersey Shore' Creator & Renews 'Dallas Cowboys Cheerleaders'
Needless to say, there's plenty going on — and if you're not caught up with the series but plan to be, you might wanna click elsewhere on Deadline now.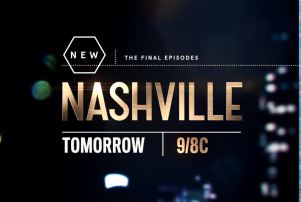 For those who remain, here's what to expect bfore the house lights come on for good — all of which is reveal in the trailer: Juliette (Hayden Panettiere), who is being held hostage by a cult in South America, is pregnant. Deacon (Charles Esten) deals with the return of his long-lost father Gideon (Ronny Cox). A major love triangle is brewing for Gunnar (Sam Palladio), Avery (Jonathan Jackson) and Alannah (Rainee Blake). Will Lexington (Chris Carmack) struggles to make it back after collapsing onstage in the midseason finale. And Scarlett (Clare Bowen) is locked in a bathroom with a traumatized soldier — who has a gun.
Kaitlin Doubleday, Jonathan Jackson, Maisy Stella and Lennon Stella co-star in the CMT series produced by Lionsgate and Opry Entertainment. Check out the beginning of the end above.