Mariah Carey Appears Skinnier Than Ever On 'Jimmy Kimmel Live' — See Wild New Pics
June 7, 2018
Mariah Carey Appears Skinnier Than Ever On 'Jimmy Kimmel Live' — See Wild New Pics
Mariah Carey has NEVER looked better! The singer flaunted her 50 pound weight loss during an appearance on 'Jimmy Kimmel Live!' on June 6, and we can't get over how thin she is. See the pics here!
If you've noticed that Mariah Carey, 48, is looking significantly smaller these days, you're not alone. The "Shake It Off" singer reportedly lost a whopping 50 pounds, and she looks incredible. Showing off her epic transformation, Mariah visited Jimmy Kimmel Live! on Wednesday, and she looks as skinny as ever. Mariah rocked a skin tight black dress with sheer accents paired with black heels. I mean, her waist does not exist! Before the show, Mariah was photographed heading into the studio with a huge smile on her face. Clearly, she's feeling herself and we don't blame her. See Mariah's look from before the show below!
Interestingly, we aren't the only ones obsessing over Mariah's transformation. Her ex-hubby and baby daddy Nick Cannon seemingly wants to rekindle things after seeing her makeover. "Nick thinks Mariah looks amazing again and her new look is sexy AF. Mariah's sexy new curves remind Nick of how she looked when they first started dating and before she had babies. Now that she has her groove back, Nick is missing her like never before and thinks she is a total MILF," a source close to the Wild n' Out star told HollywoodLife EXCLUSIVELY. Together, Mariah and Nick have two kids– Moroccan and Monroe. And although they are no longer an item, they spend a lot of time together. They even hit up the Kid's Choice Awards as a family on March 24. So sweet, right?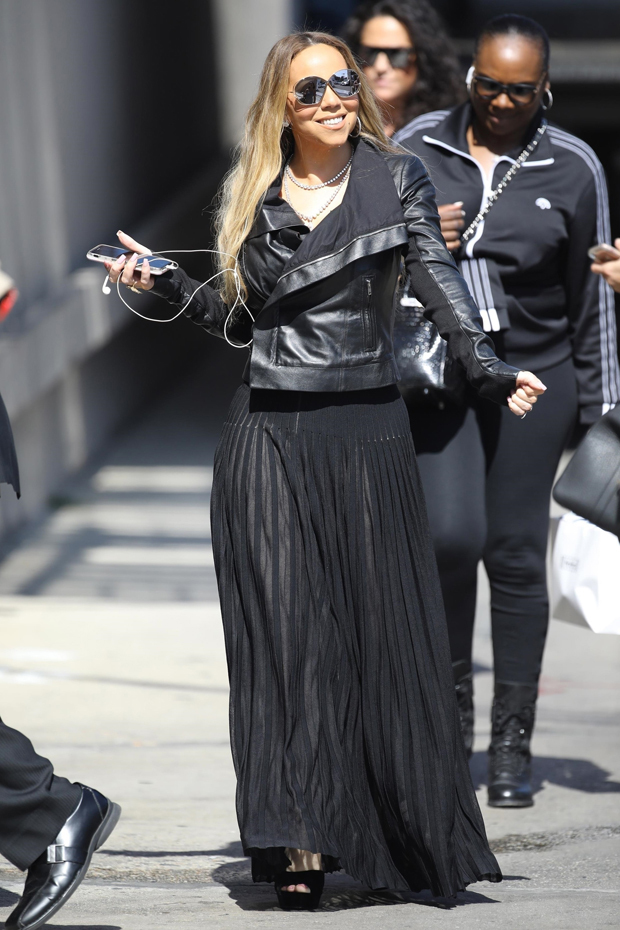 In addition to her incredible looks, Mariah also dished on what it feels like to get back in the studio. "I've been working every night until like 5 AM," Mariah explained to Jimmy. We can't wait to hear what she's working on! Mariah will also be returning to Las Vegas for another residency starting on July 5, and we're sure it will be more epic than the last!