Lindsey Vonn, NHL Player P.K. Subban Are Dating and 'Can't Get Enough of Each Other' at CMT Awards: Source
June 7, 2018
Lindsey Vonn and P.K. Subban are dating — and have made their romance red carpet official!
The Olympic gold medalist, 33, and the 29-year-old hockey player — a defenseman for the Nashville Predators — stepped out together Wednesday night at the 2018 CMT Music Awards in Nashville, where they packed on the PDA while posing for photos ahead of the show.
"They're in that beginning stage of a relationship where you can't get enough of each other," a source told PEOPLE exclusively of the pair, both of whom presented at the CMTs.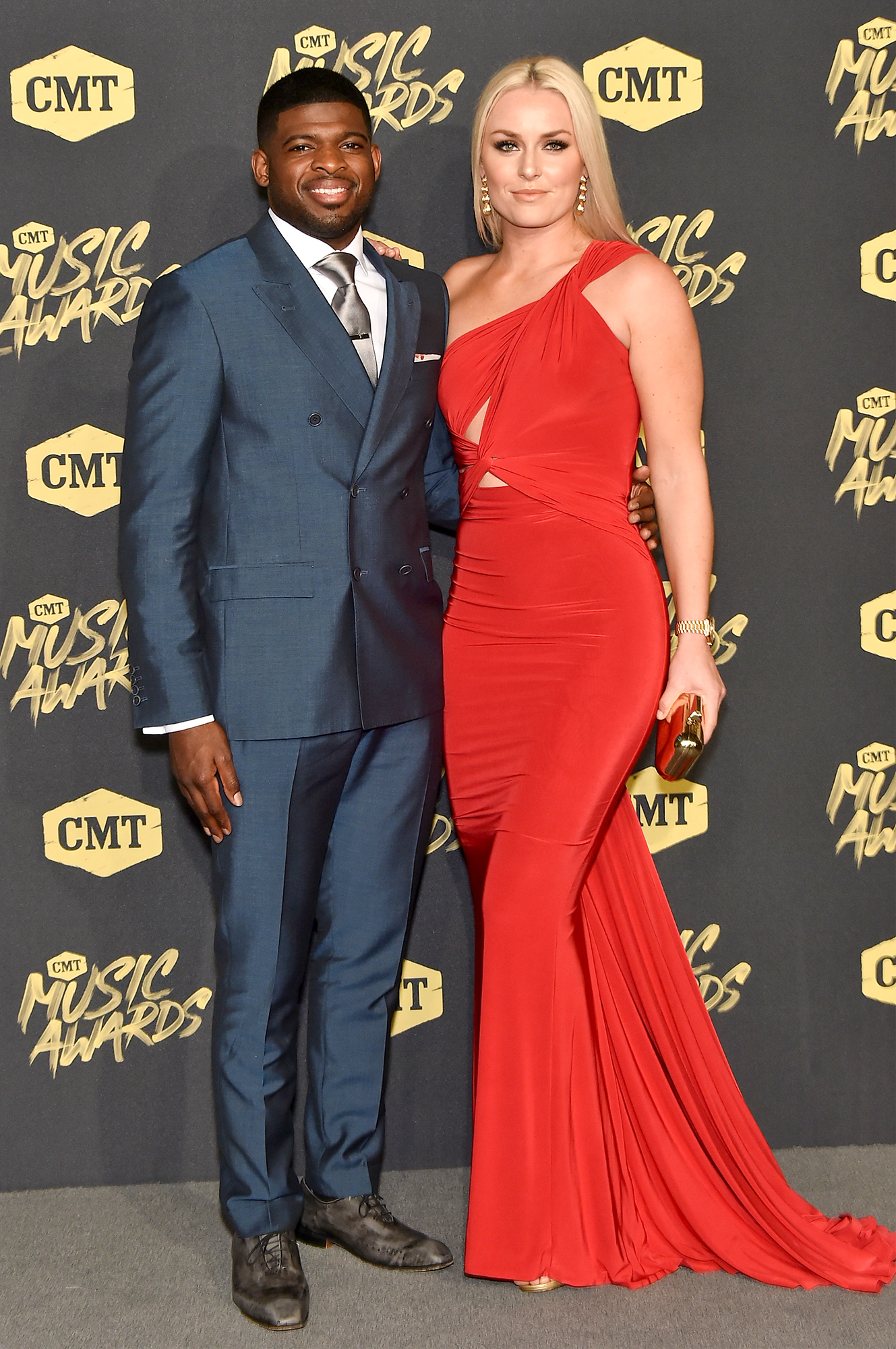 P.K. Subban and Lindsey Vonn
Mike Coppola/Getty
"They held hands down the carpet, and when they weren't, he had his hand on the small of her back and she was giving him puppy dog eyes," the source added. "Very cute."
Vonn hinted at her new beau when she took the stage to introduce the Backstreet Boys' performance of their new single "Don't Go Breaking My Heart."
"When you're a celebrity everyone's always trying to figure out who you're dating … Does anyone know who I'm dating?" she said. "I'm going to come clean and confess who really has my heart and has had my heart since I was ten years old … the Backstreet Boys!"
Be sure to check out PEOPLE's full CMT Awards coverage to get the latest news on country's big night.
@terezowens Lindsey Vonn PK Subban Dating pic.twitter.com/VJXkkuV8sI

— Terez Owens (@TerezOwens) April 23, 2018
Sports blog TerezOwens.com was first to report on the budding relationship in April. At the time, the site shared Instagram stories Vonn posted from a Predators game.
Then, April 27, Nashville sports reporter Justin Beasley tweeted a photo of Vonn at another Predators game, allegedly at Bridgestone Arena to support Subban.
Proof of Lindsey Vonn walking into Bridgestone Arena. #Preds pic.twitter.com/ILZMT7WPcj

— Justin Beasley (@JBeasleyWSMV) April 28, 2018
Vonn last dated NFL assistant coach Kenan Smith for a year before the pair amicably split last November. The alpine skier was also previously linked to Tiger Woods, whom she dated for nearly three years before calling it quits in 2015.
The 2018 CMT Music Awards are broadcast live from Nashville on Wednesday, June 6 at 8 p.m. ET/PT on CMT.