Kylie Jenner "Pregnant Again Already"?
June 5, 2018
Truth rating: 0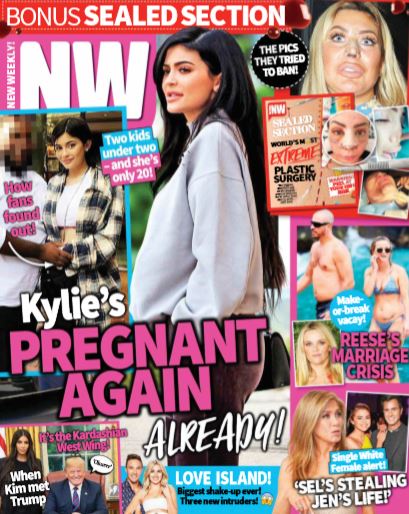 (NW)
A new tabloid cover story announces Kylie Jenner is "pregnant again already." But the proof the magazine provides is easily disputed. Additionally, Gossip Cop can show evidence to counter the pregnancy claim.
The cover of NW prominently features a photo of Jenner wearing a bulky sweatshirt that gives the appearance of a possible baby bump underneath. Similar pictures are featured inside the issue. But what the outlet doesn't tell readers is that these snapshots are from February of 2017, more than a year ago. And at the time they were originally released, it was Jenner's ring on her wedding finger that caught people's attention, not her midsection. It's apparent from the various angles of these paparazzi pictures that the sweatshirt is merely giving the false illusion of a larger stomach.
Now roughly 16 months later, the publication is deceptively presenting these old photos without any real context and wrongly leading fans to believe they are proof of a new pregnancy. They are not. What's more is that Jenner shared on Instagram a skin-baring photo just a week ago that shows her torso is currently completely flat. There's no blossoming baby bump whatsoever. That's clear evidence that she's not expecting right now, contrary to the tabloid's claims.
This article is also headlined with a fabricated quote attributed to Jenner: "Yes, I'm Pregnant Again!" There's no proof the reality star ever uttered such a statement. But the accompanying story claims she's "confirmed to her inner circle that she's pregnant with bub number two already," only four months after welcoming daughter Stormi. A so-called "insider" alleges Jenner discovered she's supposedly expecting again after she joined a possibly pregnant friend in taking a pregnancy test for moral support. "She was totally shocked when [hers] came back positive," asserts the unnamed and untraceable source.
The magazine goes on to contend that now with a second kid on the way, Jenner is "planning on ditching showbiz for the quiet life with her babies" and will relocate to a farm "for good." At the same time, though, the outlet claims boyfriend and baby daddy Travis Scott has "reached the end of his rope and is ready to walk away for good — meaning Kylie would be left holding two babies alone." To add credence to the allegation that they're "on the rocks," the publication refers to a recent RadarOnline report about Jenner and Scott being on the verge of a split.
But Gossip Cop debunked that tale last week, and after we did, Jenner and Scott happily attended a Houston Rockets game together. There was no indication of "serious tension" between them, nor for that matter was there any sign that she was pregnant with their second child. It is true that in a March article about Jenner and Scott's post-baby life, Us Weekly reported that "it wouldn't surprise anyone if Kylie gave Stormi another sibling very soon," but there is nothing legitimate to substantiate this pregnancy cover story from NW.