Kyle Richards Thinks Lisa Vanderpump's Reaction To Dorit Kemsley Talking Behind Her Back "Was Not Authentic"
June 4, 2018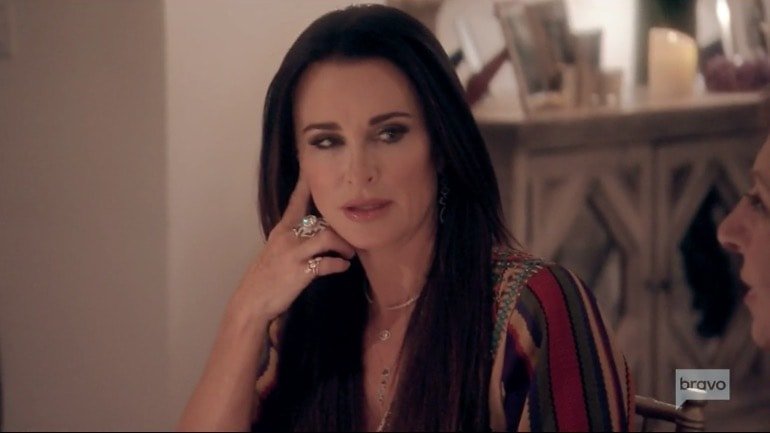 For the past 8 seasons of Real Housewives of Beverly Hills, Kyle Richards has remained as neutral as she could among the cast member drama. She has also gone out of her way to be a loyal friend to Lisa Vanderpump. When she told Lisa all of the things that Dorit Kemsley said behind her back, it backfired on her.
One would assume that Lisa would be upset that Dorit told everyone in the cast that she was insecure, jealous, and didn't get enough love from her mother, but for some reason Lisa didn't care. This is a far cry from the woman who was livid that Kyle compared her to chess player Bobby Fischer. Nevertheless, she quickly breezed over Dorit throwing her under the bus and hung Kyle out to dry.
Before discussing the surprising lack of drama between Lisa and Dorit, Kyle discussed the perception of Dorit among the Real Housewives of Beverly Hills fans during an episode of the Reality of Reality podcast. Kyle admitted, "I actually feel bad. They're really giving her a hard time."
Kyle continued, "Yeah, she's said things that I didn't like, but I also know that she's a good person. She's just fun, easygoing, and can poke fun at herself."
Kyle said what we are all thinking when it comes to Dorit's presence on Real Housewives of Beverly Hills: "The good thing about her is that she says whatever she wants and doesn't censor herself. The bad is she says whatever she wants and doesn't censor herself." If it wasn't for Dorit's constant shit stirring, Season 8 of Real Housewives of Beverly Hills would have been way more boring than it actually was.
Kyle admitted, "Lisa's reaction just wasn't authentic." Clearly. She continued, "The same things that pissed off the viewers that Dorit did and were bothering me, Lisa was just like 'Oh well, you know…' and that's just not who Lisa is. And that's certainly not how Lisa is with me. " But apparently the standards for Kyle and the standards for Dorit are very different in Lisa's eyes.
Kyle insisted, "I've never been competitive for friendship. I come from a family of all women. The more the merrier. I love when my girlfriends meet my other girlfriends."
Kyle was asked, "What was going on?" Kyle answered, "Something with PK [Kemsley]." She admitted, "There was something there and it was driving me crazy." Same here, Kyle. Same. Same. Same.
Kyle said, "It was just frustrating to me because it just didn't ring true to me." Kyle added, "[Lisa] wasn't being herself. It just didn't make sense." She emphasized, "I'm not jealous of their friendship." We all believe Kyle. No one would be jealous of that friendship.
RELATED: Kyle Richards Thinks Lisa Vanderpump Is Jealous Of Her Friendship With Dorit Kemsley & Teddi Mellencamp Arroyave Is A Great Addition To Real Housewives Of Beverly Hills
TELL US- WAS LISA'S REACTION TO DORIT TALKING BEHIND HER BACK INAUTHENTIC? DO LISA AND DORIT HAVE A TRUE FRIENDSHIP? IS KYLE JEALOUS OF DORIT & LISA'S FRIENDSHIP?
[Photo Credit: Bravo]