Kim Kardashian Showered In Rare Praise From Hollywood & Beyond After Trump Grants Alice Marie Johnson Clemency
June 6, 2018
Kim Kardashian Showered In Rare Praise From Hollywood & Beyond After Trump Grants Alice Marie Johnson Clemency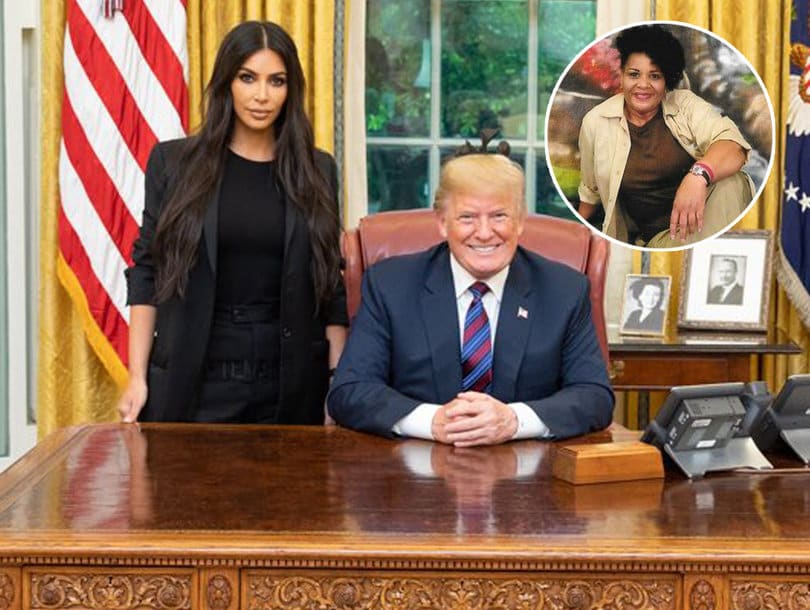 Khloe Kardashian and Kathy Griffin are among the first to respond to the news.
Kim Kardashian is usually the butt of jokes in Hollywood and beyond, but on Wednesday, the reality star was the subject of high praise after President Donald Trump granted clemency to Alice Marie Johnson, a first-time nonviolent drug offender who was sentenced to life in federal prison without the possibility of parole.
News of Johnson's release comes just one week after the "Keeping Up with the Kardashians" star met with the president in the Oval Office to advocate for Johnson — a 63-year-old great-grandmother who's been serving her sentence in Aliceville, Alabama, since 1996. Kim's visit and plea for prison reform was met with staunch criticism from Twitter trolls and even some of Hollywood's elite who thought the reality star had no way of making a change. Boy, were they wrong.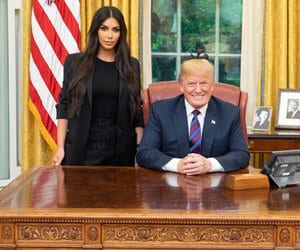 Twitter Tears Apart Kim Kardashian and Trump's White House Meeting Over Prison Reform
View Story

Kim first became involved with Johnson's case back in October of last year after she saw a video of her telling her story. Kim then enlisted her personal attorney, Shawn Chapman Holley, to help bring Johnson's clemency petition to fruition. She's been working closely on the case ever since, even speaking with Trump's son-in-law and White House senior adviser, Jared Kushner, multiple times over the phone. Kushner was finally able to bring Johnson's file to White House attorneys, and then to Trump.
Johnson will now be released from prison after serving more than 21 years behind bars for her role in facilitating communications in a cocaine trafficking operation in Memphis, Tennessee. She was given a life sentence without parole, plus 25 years, after her co-conspirators testified against her.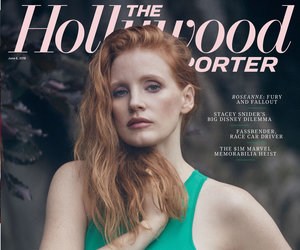 Jessica Chastain Declares Kardashians 'Most Powerful Women in Our Society' and Denies 'Feud' With This Actress
View Story

See the reactions from Hollywood and beyond below.
BEST NEWS EVER!!!! 🙏🏼🙏🏼🙏🏼 https://t.co/JUbpbE1Bk0

— Kim Kardashian West (@KimKardashian) June 6, 2018
So grateful to @realDonaldTrump, Jared Kushner & to everyone who has showed compassion & contributed countless hours to this important moment for Ms. Alice Marie Johnson. Her commutation is inspirational & gives hope to so many others who are also deserving of a second chance.

— Kim Kardashian West (@KimKardashian) June 6, 2018
I hope to continue this important work by working together with organizations who have been fighting this fight for much longer than I have and deserve the recognition.

— Kim Kardashian West (@KimKardashian) June 6, 2018
The phone call I just had with Alice will forever be one of my best memories. Telling her for the first time and hearing her screams while crying together is a moment I will never forget.

— Kim Kardashian West (@KimKardashian) June 6, 2018
Kimberly you are such a beautiful person inside and out!! I am constantly amazed by your determination! No matter what, you never let anyone else dictate your life! What's right is right! You did what was right! God bless you @KimKardashian 💜

— Khloé (@khloekardashian) June 6, 2018
Thank you for using your platform.

— T'Questlove (@questlove) June 6, 2018
You can say what u want about Kim but today she did what many of u couldn't. Much respect to u for making a difference today @KimKardashian

— LAMAR ODOM (@RealLamarOdom) June 6, 2018
My friend @KimKardashian got more done in one meeting with Trump than feckless has in her entire time at the White House. https://t.co/KF8qBktfax

— Kathy Griffin (@kathygriffin) June 6, 2018
Um, calling President @KimKardashian. Seriously. Extreme times call for extreme measures. https://t.co/LMpcgFL5cs

— Kathy Griffin (@kathygriffin) June 6, 2018
Even a broken clock is right twice a day. Trump has been giving out pardons like beads thrown from a Mardi Gras float, but this seems like a good thing. Glad Ms. Johnson will be reunited w/her family. ⁦@KimKardashian⁩, girl u are the real deal. https://t.co/f4t9LfEI7q

— Ana Navarro (@ananavarro) June 6, 2018
Hey @KimKardashian that was cool now please convince President Dipshit to stop tearing children away from their mothers and being a racist old asshole who nurtures our divisiveness while stomping on the rule of law thank you!

— Ike Barinholtz (@ikebarinholtz) June 6, 2018
Amazing hard work by @KimKardashian getting justice & much deserved 2nd chance for Alice Johnson & @realDonaldTrump for showing the humanity America is all about. @Kaepernick7 when you look at that oval office picture I hope you know you made this happen too because we do brother

— Tom Arnold (@TomArnold) June 6, 2018
I really owe @KimKardashian an apology. Seeing her with Trump, I made assumptions. I was wrong. Good for you Kim!👍🏽

— Mia Farrow (@MiaFarrow) June 6, 2018
We need @KimKardashian to talk to Donald Trump about the DREAMers next! #NotJoking

— Perez (@ThePerezHilton) June 6, 2018
Great news for Alice Johnson, who's been in federal prison since 1996 on a nonviolent drug offense. Kudos to Kim Kardashian for using her platform to amplify the advocacy many have been doing on Johnson's behalf (and so many others) for years. https://t.co/X2EKQfgPzW

— Britni Danielle (@BritniDWrites) June 6, 2018
The fact that some are reacting negatively to Kim Kardashian's successful advocacy on behalf of Alice Johnson is indicative of larger issue in public discourse.
It doesn't matter if anything good comes out of a Trump presidency. They hate it just because it involved Trump.

— Emma Vigeland (@EmmaVigeland) June 6, 2018
What Kim Kardashian did was incredible. Regardless of what you think of her. She went out of her way to give a voice to the voiceless. This is why celebrities, athletes, actors etc should never 'Shut Up And Dribble'. Social platforms are a force when used to enact change.

— Francis Maxwell (@francismmaxwell) June 6, 2018
Sis @KimKardashian you think you can convince Trump to remove himself from office?!

— Nia Riley (@NiaNRiley) June 6, 2018
.@KimKardashian can you please ask Trump to hire more FOIA officers

— Eric Geller (@ericgeller) June 6, 2018
Say what you will about @KimKardashian's family, her body and even who she's married to, but this is what using your influence, access and privilege is all about! Alice Johnson will soon be a free woman! Watch her family's emotional reaction inside. https://t.co/VDKhvQRM5E

— TV One (@tvonetv) June 6, 2018
Kim Kardashian, you make me proud to be an American. Wow! Yeah, I just said that.

— Tiffany FitzHenry (@Tiff_FitzHenry) June 6, 2018
It's a weird fucking time when Kim Kardashian, of all people, is doing more to end the pointless war on drugs than Obama did in 8 years of his presidency

— HI_IM_MARK (@Mark_uhhhhh) June 6, 2018
Kim Kardashian West met with President Trump last week at the White House to talk prison reform and about Alice's case. She and her attorney,Shawn Holley, were working with Ivanka Trump & Jared Kushner for several months on Johnson's case.I'm glad to see the good my fav is doing

— Ogechi (@OgeKimKanyeW) June 6, 2018
Never would've thought there'd be a day when I'd feel grateful to Donald Trump and Kim Kardashian, but these are strange times. Credit where credit is due; this is an objectively good thing. https://t.co/a4LdJoozKf

— Caitlin Johnstone (@caitoz) June 6, 2018
Kim Kardashian managed to meet Trump and help get Alice Johnson outta prison all without any shenanigans from the White House. That's some boss shit, bruh.

— house (@i_8dis) June 6, 2018
So y'all wanna talk about Kim Kardashian actually making a positive political move or y'all wanna ignore it?

— Bayou Spice (@KW33NSOHI9H) June 6, 2018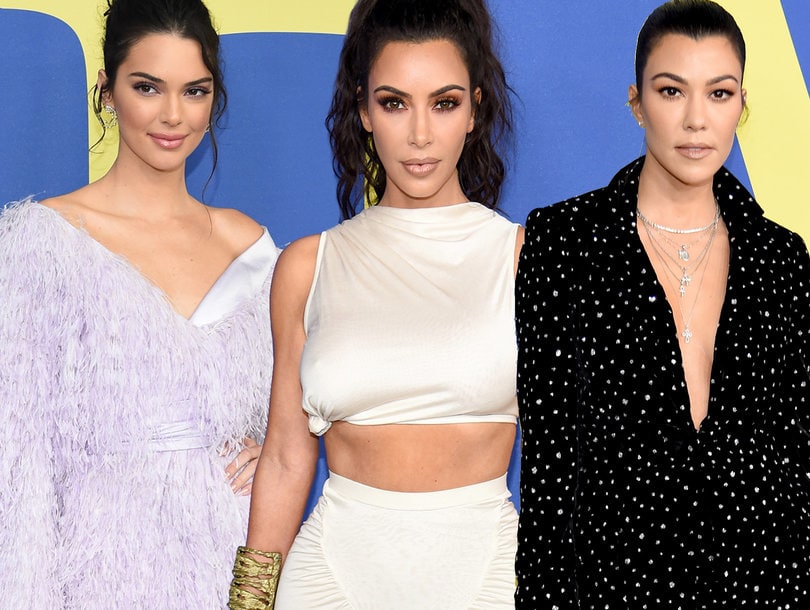 View Photos
Getty
All the Must-See Looks from the CFDA Awards Red Carpet 2018