Kendra Wilkinson Live-Tweets Explosive Argument With Estranged Husband Hank Baskett
June 5, 2018
Kendra Wilkinson Live-Tweets Explosive Argument With Estranged Husband Hank Baskett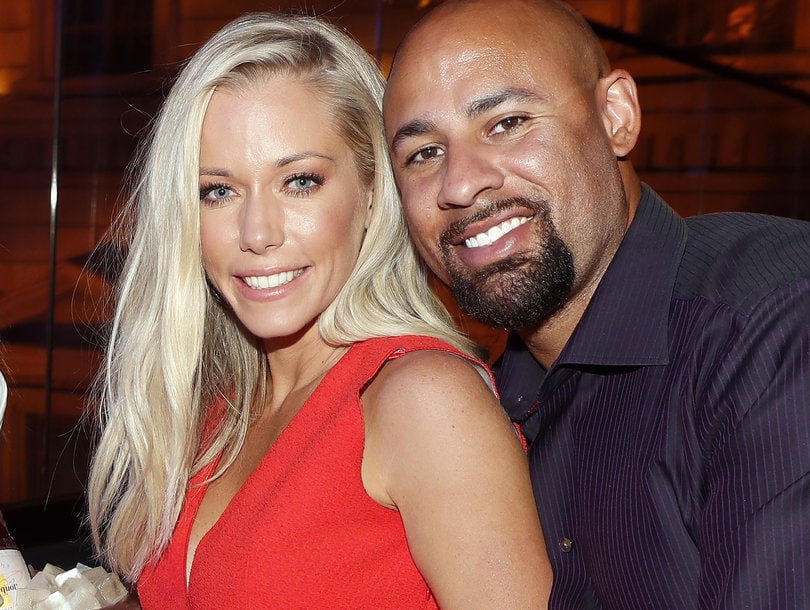 Kendra Wilkinson accuses Hank Baskett of blaming her for his infidelity during her pregnancy and for his failed football career.
Kendra Wilkinson is not one to shy away from airing out her dirty laundry on social media.
In fact, the reality star live-tweeted her most recent argument with estranged husband Hank Baskett, who she filed for divorce from in April of this year.
Kendra Wilkinson Confirms Her Marriage Is Over: 'Too Much Fear Has Gotten In the Way'
View Story

In a series of since-deleted tweets, the reality star accused the former football player of recording her during an exchange that appeared to take place Tuesday afternoon in real time.
"Why is Hank recording me right now?" the "Kendra On Top" star tweeted (see receipts below). "Please tell him to leave me alone and stop. He's blaming me for his football career ending. He's blaming me for cheating on me while pregnant. I'm minding my business, and after I tell him to leave me alone, he disrespects me. I'm trying to get out of my house fast. I'm beyond sad. But recording me is my trigger."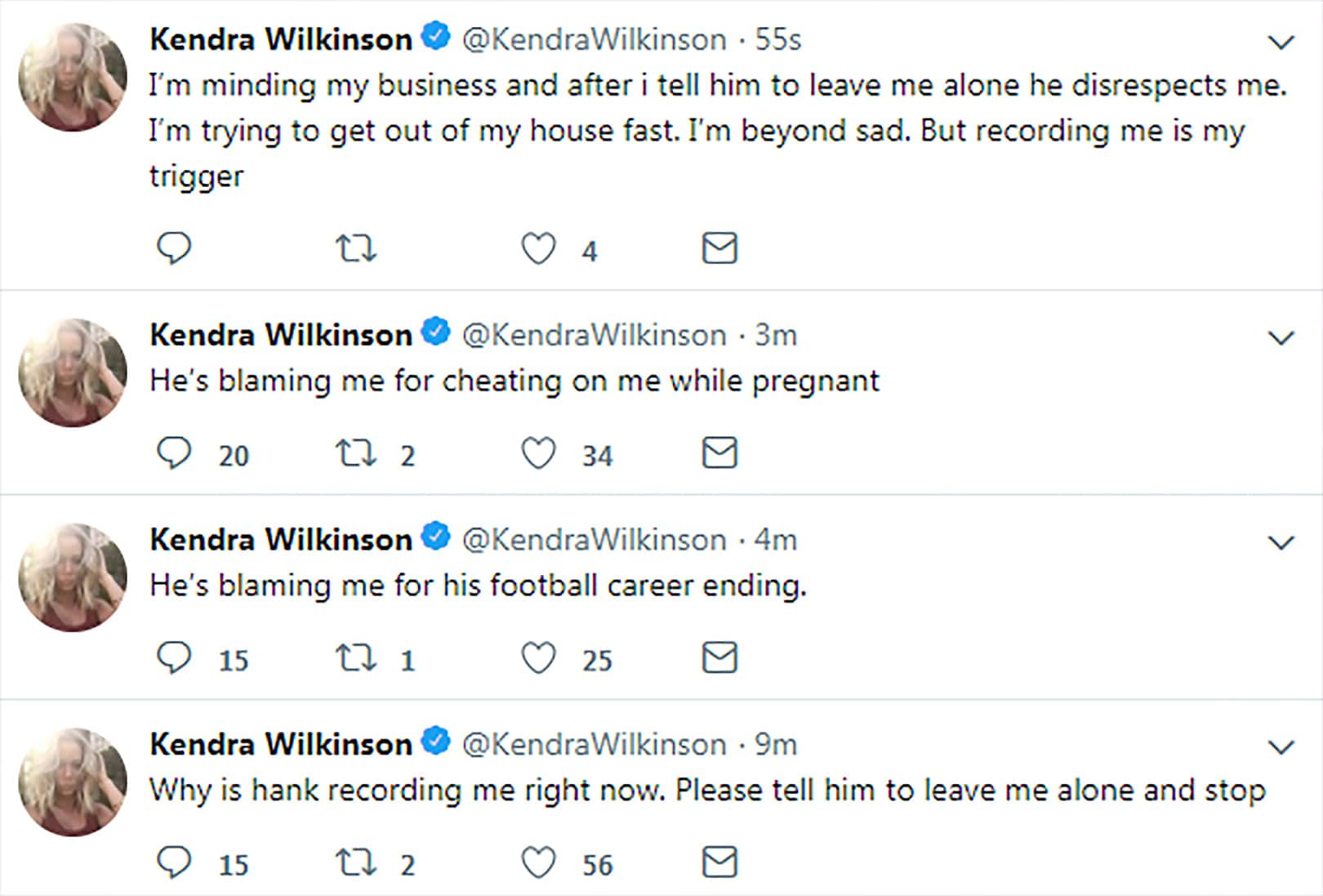 Kendra then posted the following, which she also ended up deleting: "I tried so hard. I did everything by the book and loved and I get shit on. I'm so sorry for you all to feel awkward right now. When I was being recorded, I felt threatened. Have a good day."
"When you feel like you give [the] best of yourself 24/7 and someone [tries] to take the best of you…it's hard to breathe. Love you all," she wrote.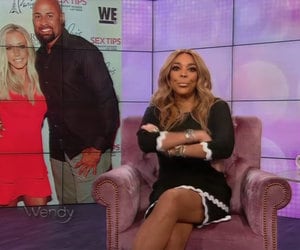 Wendy Williams Shreds Kendra Wilkinson and Hank Baskett Split: 'This Smacks of Kendra Missing the Spotlight'
View Story

But this wasn't the first time Kendra took to social media to let fans in on her troubled home life. Just days before officially announcing her legal split from Hank, Kendra posted a series of emotional videos to her Instagram Story, breaking down in tears as she talked about her dissolving relationship.
"Ten years, I did everything I could. It wasn't good enough," she confessed. "I will always love him, and my heart will always remain open for him. I believed him forever, I really did. Guess it's just not meant to be. I'm so scared, but I have to get strong for my kids."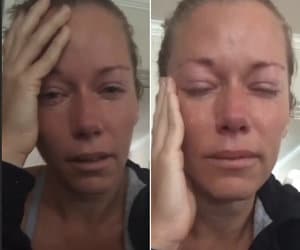 Is Kendra Wilkinson Filing for Divorce? Reality Star Teases 'Saddest, Scariest Day of My Life' In Emotional Instagram Post
View Story

Kendra also shared two photos — one from her wedding with the caption, "I believed," and another of herself as a child with the caption, "This little girl deserved the happiest life." She followed that up with a photo of her clothes for the day, writing, "Picking the outfit was hard. Shaking the whole time."
On Twitter, the reality star wrote, "Today will be the saddest, scariest day of my life. Today, I will have to be the strongest I've ever been. Today, my rebirth begins."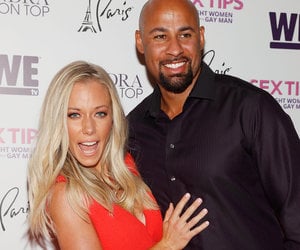 Kendra Wilkinson Goes on Another Emotional Twitter Spree Amid Hank Baskett Split Speculation
View Story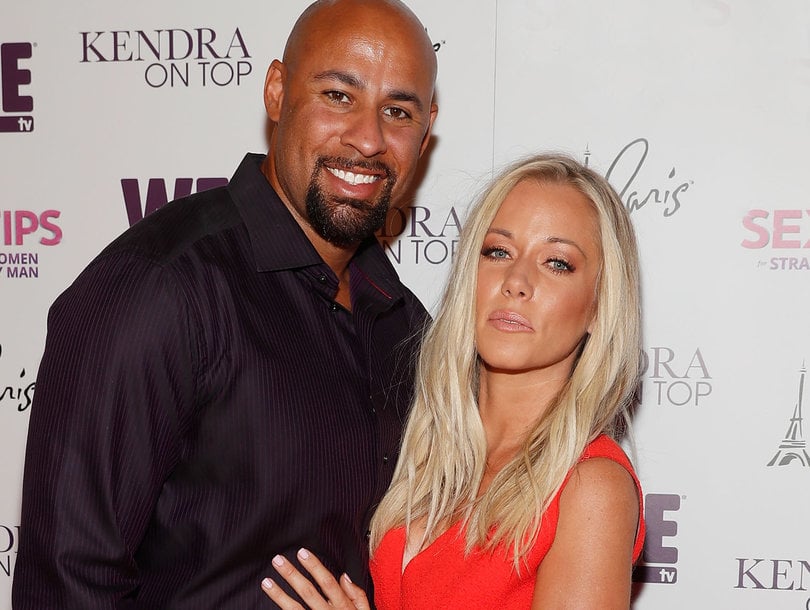 see her new 'do!
Twitter
Kendra Wilkinson Goes Brunette After Filing for Divorce