Kendall Jenner Flaunts Her Sexy Legs In Colorful Mini Dress Days After Making Out With Anwar Hadid — Pic
June 7, 2018
Kendall Jenner Flaunts Her Sexy Legs In Colorful Mini Dress Days After Making Out With Anwar Hadid — Pic
Legs for days! Kendall Jenner showed off her gorgeous model figure while out shopping with her sister Kourtney Kardashian in New York on June 6. Wait until you see this pic!
When it comes to Kendall Jenner, 22, it's hard not to understand what the hype is all about. Just days after her make out session with Anwar Hadid at a CFDA Awards after party, the gorgeous model was spotted out and about in NYC on Wednesday with her sister Kourtney Kardashian. Kendall looked absolutely stunning in a multicolored Ralph Lauren dress, which showed off her incredibly toned legs, paired with white sneakers. So chic, right? She kept her make up simple and styled her hair bone straight. We are obsessed with this look, and we sure Anwar is too! See the photo below!
Speaking of Anwar, he and Kenny's PDA rubbed her rumored beau Ben Simmons the wrong way. "Ben's not used to being treated this way. Usually girls are waiting by the phone for him to call after one date, but Kendall is the opposite– she's a stone cold player. Ben thought NBA guys were players, but Kendall just proved she's the OG," a source close to Ben explained to HollywoodLife EXCLUSIVELY. TBH, we don't blame Ben for being shocked! After all, he and Kendall were just spotted out together a few days ago.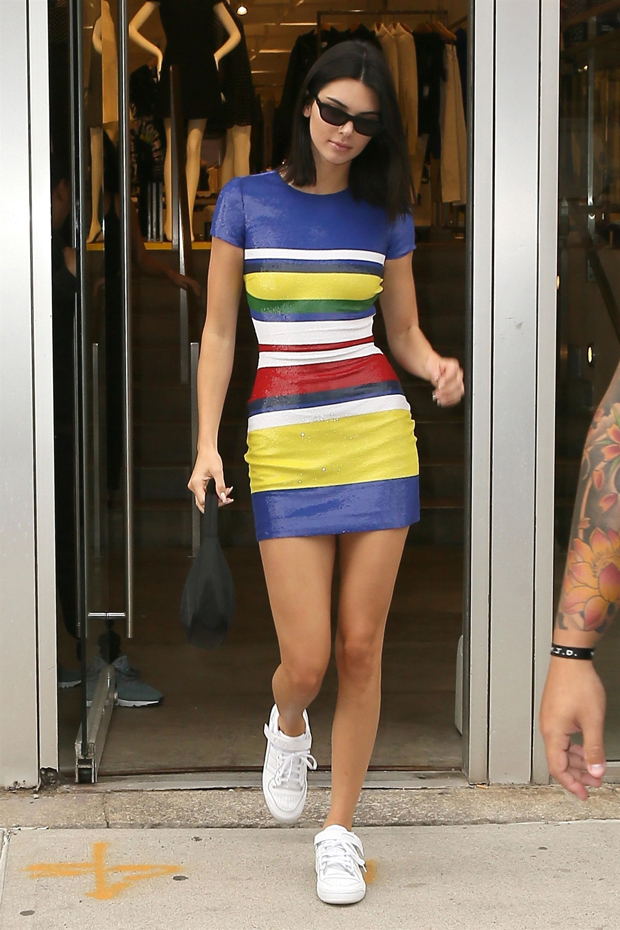 "Ben feels a bit used, he just had the best time with Kendall and now she's already bounced to someone else, it's got his head spinning a little," the insider continued. Aww, poor Ben! But, Ben isn't the only one we think may be feeling this way. To our knowledge, Anwar was recently in a committed relationship with actress Nicola Peltz! What in the world is going on?! But, by the look of these photos, it doesn't seem like Kendall is too bothered!