Kardashians Cutting Off Contact With Khloe Kardashian Over Tristan Thompson?
June 6, 2018
Truth rating: 0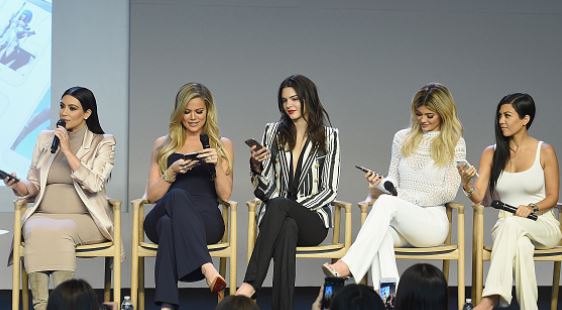 (Getty Images)
Are the Kardashians really cutting off contact with Khloe Kardashian? A new report claims the family is icing out the new mom because she's still with the unfaithful Tristan Thompson. But Gossip Cop can bust the story.
"Angry that she's forgiven her cheating baby daddy, Khloe Kardashian's family is tuning out," Star contends in its latest issue. According to the tabloid, Kendall Jenner in particular is "done keeping up" with her sister's "never-ending relationship drama" and has "lost all respect" for her older sibling. "But," claims the magazine, "Kendall isn't the only Kardashian who seems to be fed up" with Khloe's "baffling love of bad boys."
A so-called "insider" is quoted as saying, "The entire family watched her go through hell when she was married to Lamar [Odom]. Khloe swore she'd never let a man disrespect her again… now this!" Alleges the supposed snitch, "At first Kourtney was sympathetic, given what she went through with Scott [Disick]… But after 20 or so phone calls, even she threw up her hands and said, 'Maybe tough love is the best love.' She's cut her off, too."
Actually, E! Online, which often serves as a de facto mouthpiece for the Kardashians, has acknowledged that the family has had a "hard time" accepting that Khloe has seemingly forgiven Thompson, but specifically reported that Kourtney "especially has been supportive of Khloe." The outlet stressed, "She understands why Khloe is doing what she's doing and has been there for her." Khloe hasn't been abandoned by the rest of the famous clan, either.
Just this week, Kim Kardashian told People how she and her sister are sharing parenting tips with each other "all the time." And last month, during an appearance on "Live with Kelly and Ryan," Kim revealed she, Khloe and fellow mom Kylie Jenner are "on a group chat 24/7." Even on Wednesday, the same day this story about a family divide was published, Khloe posted a tribute on Twitter to Kim, which she retweeted with heart emojis. And in yet more evidence that she still has the support of her siblings, Khloe posted on Twitter just a few days ago, "I have the best sisters in the world! I feel so blessed!! Built in besties!! I love you guys!!"
Conclusion: While Star uses an anonymous "source" to contend Khloe's family has cut off contact with her, Kim is on record talking about how often they keep in touch. Khloe has also posted on social media about having the "best sisters" and "built in besties." Additionally, E! Online has reported that Kourtney is "especially" supportive of Khloe, and a mutual pal of ours and Kendall tells Gossip Cop that it's "false" she's stopped communicating with her. With all that in mind, we're rating the tabloid's disproven story a zero.