Jennifer Aniston Did NOT "Confront" Emma Stone Over Justin Theroux, Despite Report
June 6, 2018
Truth rating: 0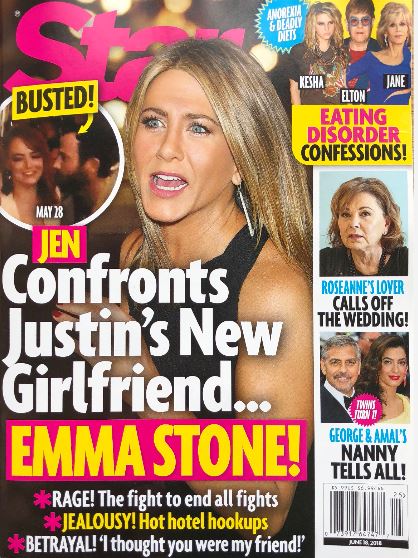 (Star)
Jennifer Aniston did not "confront" Emma Stone over Justin Theroux, despite a new tabloid cover story. Gossip Cop can bust this report. Contrary to the claims, there is no dispute between the women.
The latest cover of Star announces, "Jen Confronts Justin's New Girlfriend… Emma Stone!" The front of the edition further teases "the fight to end all fights," and features the quote, "I thought you were my friend!" It was all designed to make readers think Aniston and Stone had a big "fight" over Theroux. But the actual article doesn't say anything about a confrontation. And the "friend" quote doesn't appear anywhere in the story.
Rather, the piece is merely about the "betrayal" Aniston supposedly feels. A so-called "insider" claims that in light of Theroux and Stone recently being spotted hanging out, she has been "left wondering whether Justin was staying true to her during the last months of their marriage." Aniston is described as "aghast" over the most recent photos of Theroux and Stone in France, with the magazine's alleged snitch contending, "Jen can see there are sparks there. She's telling friends this is a very tacky maneuver, since she and Justin are going through a divorce." Actually, neither of them has filed for divorce.
Still, the purported tipster goes on to allege the situation is triggering "unpleasant memories" of Brad Pitt and Angelina Jolie, who went public with a romance after he and the "Friends" star split. Another untraceable and unidentifiable "source" maintains Theroux had "assured Jen that he and Emma were just friends, but she no longer believes him." The publication then stresses that Aniston is "truly OK with the split and is trying to move on," but that goes against whole premise of the article, which is that Aniston "has had enough" and is upset over Theroux and Stone seemingly dating.
Again, despite the claims on the cover, there is no mention in the story about a confrontation or fight between Aniston and Stone. The tabloid is trying to lure readers with a premise it can't substantiate. In fact, reps for both stars are on record denying the report is accurate. Additionally, it's worth noting that People reports Theroux and Stone are just a "friendly pair," not a couple.
Gossip Cop also spoke with mutual pal of ours and Stone, who reveals, "There is no relationship between Emma and Justin. All of it is [bull]. They are just friends and colleagues." And Theroux himself has insisted on Instagram that he and Stone are "just BFFs."
Of course, Star has a history of spreading misinformation about all three stars, such as wrongly linking Stone romantically to her La La Land co-star, Ryan Gosling. Meanwhile, in March, the magazine falsely declared Aniston and Pitt were "back on," and even photoshopped an old picture of him and Jolie to make it look like a new kissing photo with his former wife. That same month, the outlet accused Theroux of cheating on Aniston with Petra Collins. Significantly, that's not mentioned in this cover story, nor is anything said about Aniston being "back" with Pitt.
Basically, it appears the publication is just making it up as it goes along, without any regard for accuracy and consistency. Additionally, this cover promises details about a confrontation, but offers none in its actual article. Also, contrary to it claims about Theroux and Stone having a romantic relationship, the actor himself has clarified that they're simply best friends, which a mutual friend of ours as well as People has confirmed. Lastly, while the magazine cites only an unnamed "insider" and "source," Aniston and Stone's respective spokespeople have gone on the record to call Star's cover story untrue.