Jason Statham, Rosie Huntington-Whiteley "Miserable" Together?
June 6, 2018
Truth rating: 0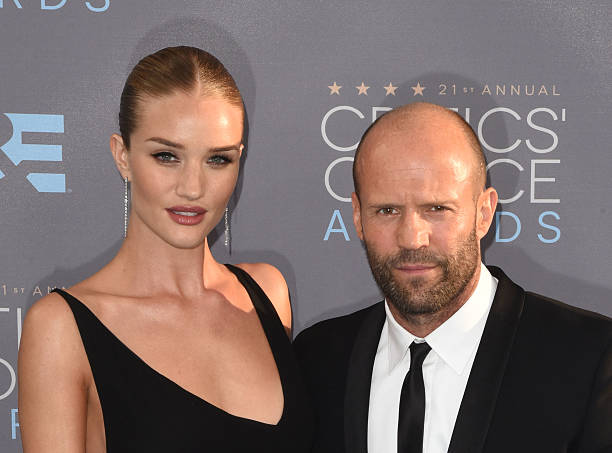 (Getty Images)
A new tabloid report claiming Jason Statham and Rosie Huntington-Whiteley are "miserable" together and headed for a split is completely false. Gossip Cop can correct the baseless claim. There's plenty of evidence to prove the couple's relationship is going strong.
According to In Touch, the actor and model seemed unhappy while out to dinner in Malibu recently. Tellingly, the unreliable magazine doesn't mention exactly when or where this dinner took place. Still, the outlet quotes a so-called "eyewitness" as saying, "They were barely talking. Rosie looked mad the entire time. Jason was trying to make conversation, but she was giving him one-word answers."
Another alleged "source close to the couple" claims no one would be surprised if they broke up. "They do their own thing and are barely ever in the same house," says the questionable tipster. "There isn't a true relationship between them right now."
However, the couple's social media pages provide a different and realistic account of their relationship. Earlier this week, Statham celebrated the launch of Rose, Inc., his fiancee's new beauty website. "This girl launched her new venture today," the actor wrote on Instagram, along with a photo of Huntington-Whiteley. He added, "So proud to see you chase your dreams and make them a reality. Congratulations babe. Check it out."
In April, Huntington-Whiteley celebrated her 31st birthday with her fiance and group of their friends. The supermodel shared several photos from the celebration on social media, including a shot of Statham smiling as her cake came out. A few days later, Huntington-Whiteley shared an Instagram photo of her and the actor at another party, along with the caption, "Love, let's talk about love.." It's quite clear there's a "true relationship" between the couple, despite the tabloid's bogus claims. Additionally, a spokesperson for the model tells us on the record the article is both "absurd and untrue."
Last month, Gossip Cop busted In Touch's sister publication, Life & Style, for making up a similarly phony story about Statham and Huntington-Whiteley living "separate lives." As noted above, the pair are frequently spotted together and post loving messages to each other on social media. Also, in Huntington-Whiteley's March 2018 Harper's Bazaar cover story, she described Statham as "the best dad" to their 10-month-old son, and gushed about their relationship.
Conclusion: As opposed to taking the word of an "eyewitness" at a restaurant and an alleged "source close to the couple," Gossip Cop is taking the word of Statham and Huntington-Whiteley themselves. There's a ton of evidence on social media disproving the tabloid's claim the two are "miserable" together. Instead, the happy couple publicly share their love on a frequent basis.