Jared Leto's Standalone "Joker" Movie Is Happening Whether You Want It To Or Not
June 6, 2018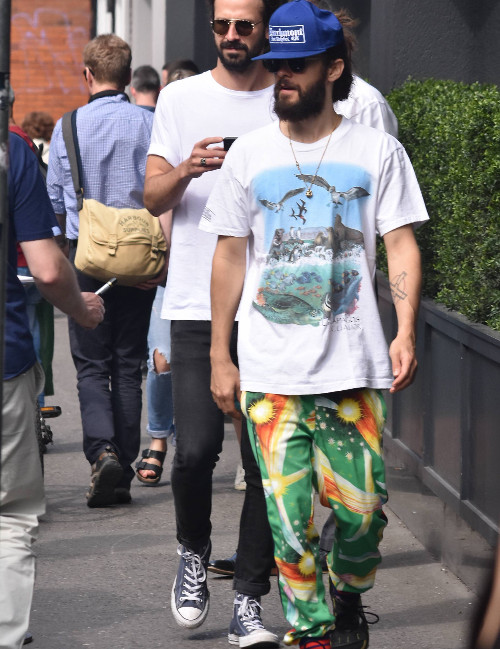 The Joker is the role Jared Leto was born to play. I mean, The Joker is basically just a trolling prankster with an enormous ego who's kind of hard to look at, right? Jared's got that in spades! Maybe that's why he's excited about getting his very own Warner Bros. Joker movie. According to Variety, Jared is going to star in and executive produce a standalone movie based on his version of The Joker from Suicide Squad.
According to Variety:
Leto's Joker, as fans noted, was almost a glorified cameo in "Suicide Squad." The Oscar-winner had made it clear following the film's release that he hoped to expand on the character in future films in a more substantive, if not starring, role.
Of course he did. Playing "A" joker doesn't pay nearly as well as playing "The" Joker. Case in point!
A post shared by JARED LETO (@jaredleto) on
What's your favorite song on #AMERICA? I can't choose!

A post shared by JARED LETO (@jaredleto) on
#Underhiseye #Praisebe #WalkOnWater

A post shared by JARED LETO (@jaredleto) on
Ha ha ha, your grams got Leto'ed! These ones were free, America! The next ones are gonna cost you the price of a ticket, suckas!
It's currently unknown when this film would go into production, as Leto and the studio will now search for a writer. It's also unclear if this film would shoot before or after the previously announced sequel to "Suicide Squad," which is believed to go into production sometime in 2019.
Jared's Joker is in addition to the Todd Phillips one that's supposed to star Joaquin Phoenix, even though both are Warner Bros. productions. The Joaquin Joker will fall under a "new origins banner" which "would allow multiple actors and versions based on the same character with no overlap". So I guess that means we won't ever get to watch an epic Joker Face/Off where Jared and Joaquin run around in LA in full Joker drag trying to prove who is the MOST interesting. Joaquin Joker's more blasé but concocts ingenious pranks drawing from obscure dadaist theory, where as Jared's Joker is over the top and keeps going back to the old well of jizz-filled condoms and showing his butt like a Mandrill ape. Now that I think about it, that's actually the only Joker movie I want to see.
ALBUM OUT NOW! Who's heard the album?! Tell me what you think below#AMERICA #MARSACROSSAMERICA

A post shared by JARED LETO (@jaredleto) on
Oh snap, did they already make it?!
Pic: Wenn.com