Jada Pinkett Smith Was "Devastated" When Jaden Smith Wanted To Be Emancipated At 15
June 5, 2018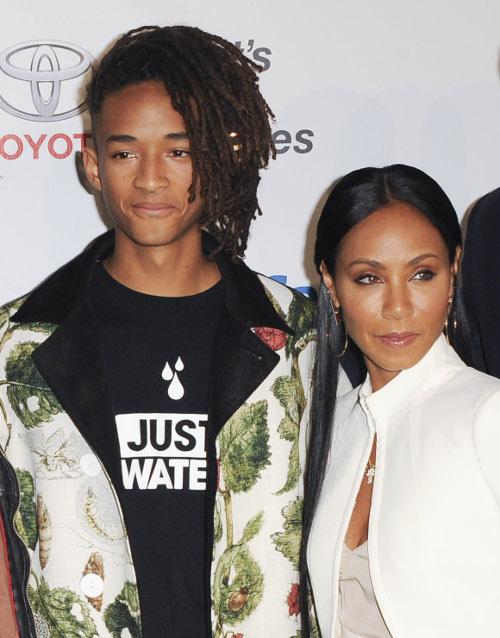 Now that Jada Pinkett Smith has her own Facebook show, Red Table Talks, she's been sharing all sorts of nuggets from the Pinkett-Smith family vault. One such tidbit is that she was devastated when Jaden Smith asked to be emancipated at age 15. You see, back when he was just a little proto-humanoid, Jaden wanted to be emancipated from his overbearing parents. Can you believe those monsters wouldn't even help him find a doctor who would perform a surgery on him that would reverse his torso so he could wear his pants backwards without actually wearing backwards pants?! Will and Jada told him "no son, if you want reverse torso surgery, you're going to have to find a doctor to perform it yourself and pay for it out of your own elective surgery allowance!". Parents, they just don't understand!
According to People, on the most recent episode of The Pinkett-Smiths: They're Just Like Us, Jaden and Jada talked about that fateful day when Jaden walked downstairs to breakfast with "#basta" chiseled into his chest by famed minimalist sculptor Carl Andre, who Jaden keeps on retainer.
"At 15 years old, Jaden, and I remember this day specifically, it's probably one of the most heartbreaking moments of my life," she began. "You got to a point where you told me straight up, you were like, 'Mom, I have to leave here to live my life.'

She added, "I remember thinking to myself, as devastated as I was, I was like, 'He's right.' The time is now. He's 15. It's time for him to leave the house."
Ultimately, Jaden decided he could live under the yolk of parental oppression just a little bit longer and never went through with the emancipation. Now that he's 19 years old, and a parent himself (he co-parents a litter of discarded dreadlocks from the head of a Spanish flamenco guitarist he met at Coachella), he probably empathizes with Will and Jada in a way he never did before he reached level ShockFyre23 on the Cobzrok scale of Mental and Spiritual Development (J. Smith, 631, 2014).
Pic: Wenn.com