It's Out With The Swimsuits, In With The Brain Power At The Miss America Competition
June 5, 2018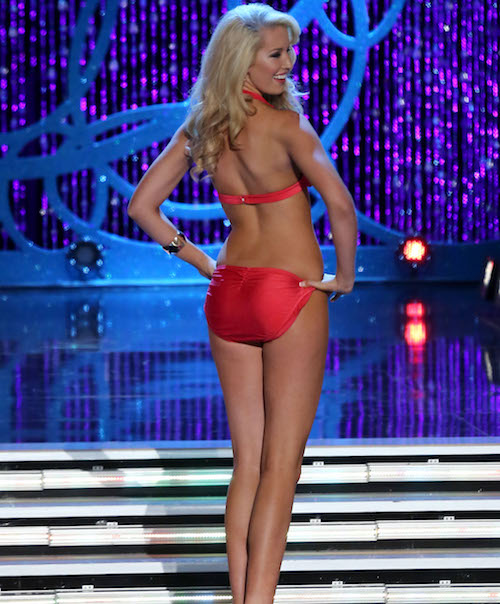 Fox News is going to rue the day they ever fucked around with Gretchen Carlson because she's now in charge of the talent pipeline that feeds into 80% of the channel's payroll: the Miss America pageant, er, competition! Gretchen went on Good Morning America this morning to say it's no longer a beauty pageant. Miss America is a competition to see who is smart and a great leader, and that means the whole Victoria's Secret Lite swimsuit competition is scrapped in favor of a live session with the judges. But, but, but, Gretch! If you take away the swimsuit competition, how is your former employer supposed to know the cup size of its future political commentators??
ABC News says Gretchen explained how Miss America 2019 will serve us with more Who Wants To Be A Millionaire than Porky's. Contestants will be asked to show off their passion, smarts, and general understanding of what the job of Miss America entails. So basically, you need to show something you're good at, recite the nation's capitals, and let them know you'll spend the next year opening a lot of car dealerships around the country, and you should be a shoo-in for that tiara, ladies!
Gretchen also let Amy Robach know that the evening gown portion is getting repurposed. Instead of long gowns, contestants will be encouraged to wear shit that makes them feel confident and expresses a personal style. I could never be Miss America because I would just wear sweatpants and a T-shirt to show confidence and my own style.
Amy reminded Gretch that this whole house is built on a foundation of swimsuits, so what kind of pushback did she get for taking away the one night of the year it's ok for the family to gather round and watch perky, taped boobies strut down a catwalk to a Top 40 song? Gretchen said the swimsuit portion isn't even rated as high as the talent portion of the evening, so stripping (teehee) the competition of swimsuits didn't get nearly the negative feedback she would have received had she told Miss Alabama to cool it with the flaming batons!
Pic: Wenn.com