Hot Slut Of The Day!
June 6, 2018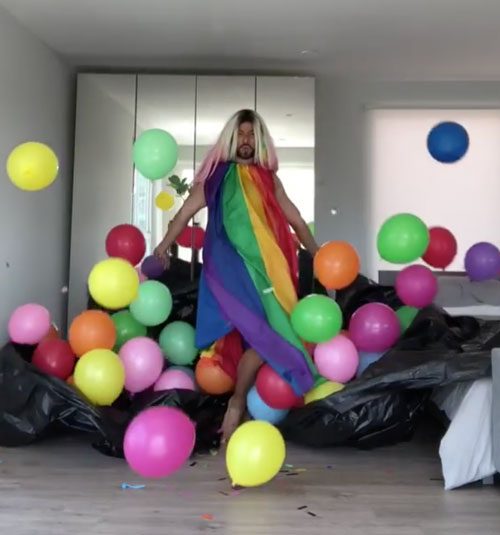 Mark Kanemura, a living and breathing Pride machine!
If you ever happen to see a rainbow in the sky, blast a Carly Rae Jepsen song from your car, pull out a telescope and prepare for your b-hole to pucker until it falls off as you look closely at that rainbow and see this vision of prism sparkliness slide down while pulling wig after wig off of his head.
Mark Kanemura is a dancer, an Instagram THOT and the big gay child of a Care Bear and Rainbow Brite who is making the internet a glamorously gayer place in honor of Pride Month by sending shards of glitter into the eyes of his followers with video after video of him dropping that ass so low Hell shook and mastering the art of using props. WARNING: If you're wearing a shirt you like and don't want to mess it up, you'll want to take it off, because your nipples will squirt out glitter nectar while getting into all the Pride that Mark lays down in what looks like an IKEA showroom.
This one's got enough gasp-summoning reveals for an entire season of lip-synchs on RuPaul's Drag Race. Mark must've rehearsed this for a unicorn right beforehand because it looks like it got very excited from all the brilliance and jizzed all over him.
me walking into pride season… HAPPY PRIDE EVERYONE!!! #CutToTheFeelingFriday #pride #loveislove @carlyraejepsen

A post shared by Mark Kanemura (@mkik808) on
This one defied science, because I'm pregnant now, and yes I gave birth to a blond Pocahontas wig.
me after leg day during pride month! @britneyspears HAPPY PRIDE!!! #pride #fitness #twerkqueen #pridemonth #britneyspears #imnotthatinnocent #strongerthanyesterday #clapclap

A post shared by Mark Kanemura (@mkik808) on
This one wasn't done during Pride Month, but it's the perfect drop of pre-cum Pride and a perfect prolapse-inducing tribute to Sasha Velour.
did someone say #CutToTheFeelingFriday ???? * * * DAMN IT YOU GUYS! Just when I think I might be getting over that song RuPaul puts it on effing @rupaulsdragrace and I get ALL of my life again and then things like this happen. So blame @rupaulofficial and my friends @lisaextraordinaire @dbano @arisouth for encouraging this behavior with their gifts of wigs and outfits

A post shared by Mark Kanemura (@mkik808) on
And finally, this is me jumping into a gay club with the hope that I'm going to get dick that night only to get nothing but a sea of backs turned away from me.
I LOVE that this brought a lot of you laughter and joy, so here it is.. the moment i almost died while filming my latest video. *** note to self: when doing a wig reveal, DO NOT throw the wig behind you. (Also, I'm totally ok and have cried laughing at this multiple times… and yes that is the camera shaking from how hard i fell ) #deathdrop #literaldeathdrop #whenthewigsnatchesback #mypoordownstairsneighbors #pride #ibelieveicanfly #superman

A post shared by Mark Kanemura (@mkik808) on
Since Richard Simmons is currently retired from causing our eyeballs to explode into clouds of sequins from taking in his infectious happiness, someone's got to do it and it might as well be this gay superhero who is so fabulous that he snatches his own wig.
Happy Pride!
Pic: Instagram