Hayden Byerly Opens Up About Saying Goodbye to 'The Fosters'
June 5, 2018
Hayden Byerly Opens Up About Saying Goodbye to 'The Fosters'
June 5, 2018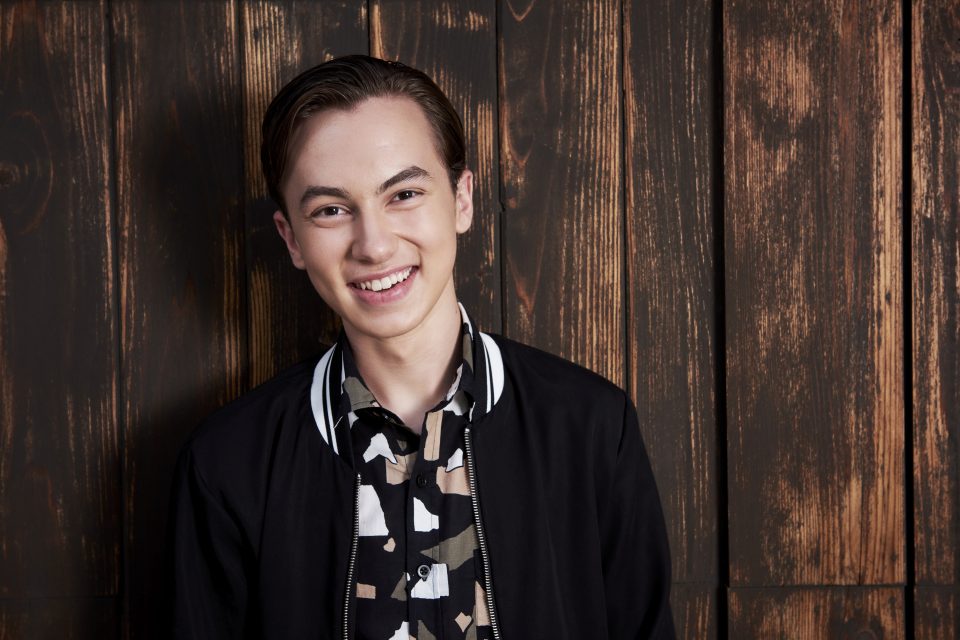 Saying goodbye is never easy!
After playing Jude Jacob (turned Jude Adamas Foster) on Freeform's "The Fosters" for over five years, 16-year-old actor Hayden Byerly is closing the book on his groundbreaking character, fellow castmates and home-away-from-home set as the influential, family-centric series comes to a close and wraps up its fifth and final season.
In celebration of this week's three episode series finale, the talented teen opened up about everything from which prop he secretly took from Jude's bedroom to whether or not he'll be making an appearance on upcoming spinoff series "Good Trouble" and more. Keep scrolling for the inside scoop on all things Hayden!
Jude's all grown up and off to college. Find out what else is new in his life on June 4th, 5th and 6th! On @freeform @thefosterstv

A post shared by Hayden Byerly (@byerly11) on
What was it like saying goodbye to Jude?
Hayden: Jude is not necessarily just a character that I played, he's also a part of me…So it's pretty crazy. It's almost, saying goodbye to a piece of yourself, something that has been so connected and tied to you for so long. I will never really forget Jude. He'll always be a part of my life, but it is kind of crazy to just say goodbye to him in this particular way, to say goodbye to him on screen and to not really be able to show him to the world anymore. But there's so many more characters and things that I hope to do and play in the future!
This will forever be my Fosters family ❤

A post shared by Hayden Byerly (@byerly11) on
Did you take anything from the set to remember your time there?
Hayden: A lot of people have probably seen it. It's never been super in your face, but one of those Hollywood license plates on his door, with his name. I ended up taking that from the set, which, if anyone from Warner Brothers calls and asks, I'll always deny it! I remember that early into the show, when Jude first moved into the house. He always had that sign on his door, and that was one of my favorite things, so I took that.
What life lessons are you taking away from "The Fosters"?
Hayden: There are countless moments and memories and lessons I've learned from so many different things, from Jude himself, from the other individual characters, from other people on set, not only just the main cast but the writers, the crew. I started the show when I was about 12 years old and in a five year period, I basically lived two separate lives and accumulated almost 10 years' worth of experience in half that time, because I was living as Jude and as Hayden. I am very lucky to have lived a double life, to grow up with the experiences that I never would have in my own. The things that Jude went through, I never would've gone through, but I'm thankful and lucky, 'cause I now know more and I've learned so much because of them.
Just a lil rehearsal shot from tonight's episode. Make sure to check out what the kids are up to on The Fosters!

A post shared by Hayden Byerly (@byerly11) on
Jude was the youngest gay character to kiss on national television. What does it feel like to have made history in that way?
Hayden: I think that it's remarkable. I'm unbelievably honored that I was allowed to be a part of history, to make such a change and to do something so big and new in the entertainment industry. The writers had approached me and talked to me about it. To me, I was like, okay, that doesn't seem like such a crazy thing, not a big deal, but it was. It made such an impact on society, on young kids in the LGBT community that wanted to see themselves accurately represented and portrayed on television. They wanted to see a character that made them feel happy and proud to be who they are. That's what Jude was.
Looking back, is there one episode that stands out as your favorite?
Hayden: I always say it and I've always stuck with it, throughout most of the years, I think my favorite episode to watch and go back and look at was Lena and Jude in the bathroom, when he's taking his nail polish off, and she's talking to him about acceptance and loving himself and being proud of who he is and how the world doesn't always accept us for who we are, but we just have to stand tall and be proud of who we are. That was an incredible moment for me, a life lesson that I appreciate and value.
It's great to be back with my other mama!!! @sherrisaum1

A post shared by Hayden Byerly (@byerly11) on
What do you hope people take away from the show?
Hayden: I hope that people take away a lot of love. I hope that people learn to love and accept those around them and, in society and in our community. We're all humans and we're all people! I think that if we all open our hearts a little bit more and try to understand and learn and accept people for who they are, the world will be a better place, as opposed to being scared of the unknown and cutting people out for what we don't understand. We need to embrace the differences within each person and how beautiful it is that we're all unique in so many different ways.
Will Jude make an appearance in the upcoming spinoff?
Hayden: There's always a chance. I think the biggest thing that I always talk about with "Good Trouble" is that this is Cierra and Maia's story. It's a continuation of a piece of "The Fosters," but wherever you go in your life, whenever you grow up and change and you move forward, you don't just forget your family. That's something that will always stay with you. Those are the people in your life who are always going to show up and bug you, especially when you don't want them to. So, I think that there is a great chance that people will not only see Jude, but many of the other "Fosters" ensemble on "Good Trouble."
I'm smiling in a lot of these photos but you just can't see the tears. Reading the final episode of the series is unreal and it's all hitting us pretty hard. Can't wait for you guys to see such an incredible and beautiful episode.

A post shared by Hayden Byerly (@byerly11) on
In case you missed it, Hayden's not the only one opening up about "The Fosters" coming to a close! Maia Mitchell, who plays his on-screen big sister recently dished on moving on from the influential series.