Florida Police Thwart Man's Attempt To Kidnap Singer Lana Del Rey
February 5, 2018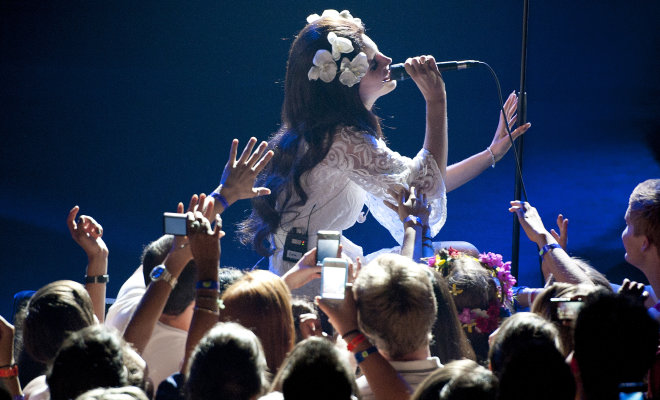 Florida Police Thwart Man's Attempt To Kidnap Singer Lana Del Rey
By: Dominique Mosbergen
Police in Orlando, Florida, say they foiled a 43-year-old man's alleged plan to kidnap pop singer Lana Del Rey.
Michael Hunt of Riverview was arrested on Friday evening just a block away from Orlando's Amway Center, where Del Rey — whose real name is Elizabeth Grant — was scheduled to perform to a crowd of about 8,000.
Hunt, who faces charges of attempted kidnapping and aggravated stalking, was found in possession of a knife and a ticket to the concert, police said.
They added that Hunt had neither made it inside the venue nor made contact with the singer.
ARRESTED: Michael Hunt, for aggravated stalking & attempted kidnapping w/a weapon.
After receiving a tip we deemed a credible threat, OPD got to him before he could get near singer Lana Del Rey last night at her show at Amway Center. pic.twitter.com/twVrOSxNqF

— Orlando Police (@OrlandoPolice) February 3, 2018
Police told the Orlando Sentinel they'd received a tip from a caller who said Hunt had posted "cryptic and threatening" posts on social media about Del Rey.
A Facebook account believed to be Hunt's show multiple posts published recently about the singer, who he referred to as his "queen."
"I love you so much Lana I can't wait to be back in your arms in a few days baby I hear you singing I miss you baby I miss you so much Lana," Hunt wrote in a Jan. 29 post.
The next day, he wrote that he wanted to "see my queen on Friday," the date of Del Rey's Orlando concert.
"[F]rom that day forward our decisions will be as one," Hunt wrote.
He also suggested in other posts that he was "leaving town" for good. In a video posted on Wednesday, Hunt spoke of "tak[ing] off with Lana."
OPD Media release on arrest of Michael Hunt, 43, who stalked, made threats against singer Lana Del Rey.
Working off a tip,OPD Officers were able to stop Hunt, who was armed with a knife, before he could get to the Amway Center. pic.twitter.com/mOsfGEwJIO

— Orlando Police (@OrlandoPolice) February 4, 2018
Orlando police said they'd determined Hunt's threats against Del Rey were "credible" and officers "worked swiftly to ensure the safety of everyone involved and of everyone who attended the show."
According to the Sentinel, Hunt has served five prison terms for a range of crimes, including burglary and grand theft of a motor vehicle.
He is currently being held at the Orange County jail without bond.
Del Rey's concert at the Amway Center went on as planned on Friday night. After the show, the singer posted a note on Twitter thanking her Florida fans for their support and tweeted Sunday that she was "doing fine."
Thanks for an amazing show tonight! Orlando wants you back here soon, @LanaDelRey!#LAtotheMoonTour #LanaDelRey pic.twitter.com/7a4xBKUTAL

— Amway Center (@AmwayCenter) February 3, 2018
Orlando! Fort Lauderdale! Miami! Thank you so much for coming out and making those shows totally crazy and keeping the energy high
We're all feeling super lucky after a couple of days of amazing shows
that means
Atlanta, Georgia at the Phillips Arena is our next stop
Grateful. pic.twitter.com/qGVBUSEXGO

— Lana Del Rey (@LanaDelRey) February 3, 2018
Hey kiddos.
I'm doing fine thanks for the messages. And tomorrow we'll be in Hotlanta can't wait to see everyone. Yachty that means u. pic.twitter.com/hwrRYyrA3E

— Lana Del Rey (@LanaDelRey) February 4, 2018