Cate Blanchett And Sarah Paulson Lost It On "Today" This Morning
June 5, 2018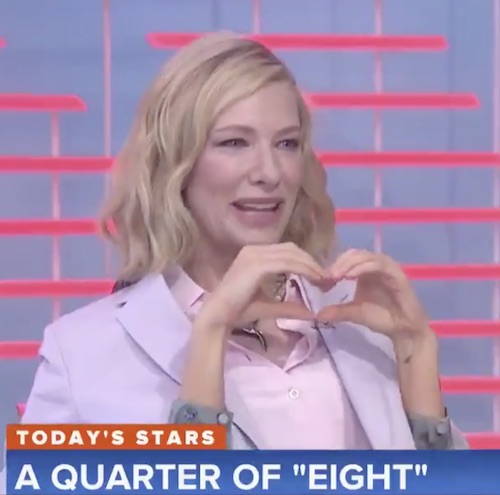 Reboot-a-palooza continues on the silver screen this summer with the upcoming Ocean's 8, a lady-led spinoff of Ocean's 11. The film drops this Friday, and co-stars Cate Blanchett and Sarah Paulson dropped by Today this morning to promote it. Their snarky banter, laying their awards dicks on the table, and mom jokes made Hoda Kotb laugh so hard that her co-host Savannah Guthrie had to come out and help her finish the interview. At least, that's what they're saying, but I think Hoda was crying over lack of job security since Cate and Sarah were twice as messed in the head as she normally is during the fifteenth hour with Kathie Lee Gifford.
Entertainment Weekly describes what happened on this morning's show as an interview, but it just seemed to me like a couple of biddies heckling at anything within eyesight. I did, however, appreciate Cate and Sarah chiding Hoda for teasing their damn interview for so long and keeping them waiting with barely enough water while Al Roker got to talk about a cold front or whatever it is he does on there. How dare NBC not supply enough hydration to the faux Queen Elizabeth I and the woman who gets to sleep next to Holland Taylor each night!
Hoda surmised to Cate and Sarah, "you guys clearly have a thing going on." Yes, Hoda. That thing is called CRAZY. It was hard to make out exactly what they were saying to each other in their Road Runner-speed speech, but I did make out a few "your mom" jokes and passing glances to the movie they were there to promote. Luckily, I can translate shade at any speed, and I immediately recognized Cate laying her two OSCARS down on the table to remind Sarah she only won an Emmy.
Hoda's mascara eventually began to run, which normally only happens when KLG threatens to sing a new song from an upcoming album, but this time it appeared to be from the genuine enjoyment at getting to talk to someone on that set who wasn't Megyn Kelly. Finally, Savannah had to join the interview and partially plead for cameos for her and Hoda in the next movie but also get at least one or two questions in to show Today is a dignified place!
Get the waterproof mascara because @hodakotb could not stop crying from laughing during her interview with @MsSarahPaulson & Cate Blanchett (and even had to call in @savannahguthrie for help)! #Oceans8 pic.twitter.com/eKyd28dzO8

— TODAY (@TODAYshow) June 5, 2018
And after the interview, Hoda and Savannah probably continued to show that Today is a dignified place by throwing to Megyn who did a segment where she feigned interest in ways to craft drink koozies out of old pool toys.
Pic: Twitter