Brad Pitt Stopped Angelina Jolie From Moving To London Indefinitely?
June 5, 2018
Truth rating: 0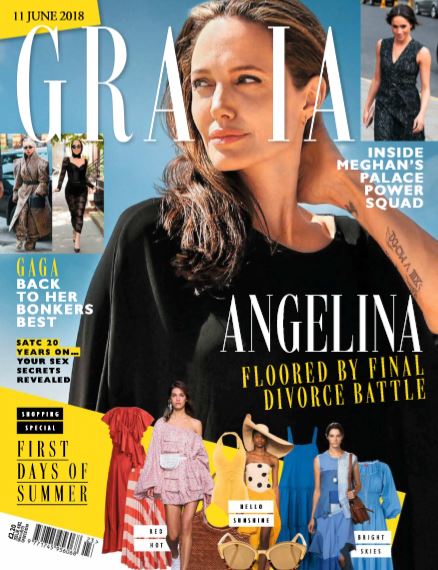 (Grazia)
Did Brad Pitt stop Angelina Jolie from moving to London "indefinitely" with their children? That's the premise of a new tabloid cover story. Gossip Cop, however, can explain how it's inaccurate.
According to Grazia, Jolie has been left "floored" after a "divorce battle" with Pitt has stopped her from permanently relocating to England. The magazine maintains that a "final settlement" in their negotiations was "set to be imminent," until this latest dispute erupted. "Brad successfully fought against Angelina's plan to move their six children to England indefinitely," claims the outlet.
A so-called "insider" is quoted as saying, "Brad just isn't giving in to Angie's demands any more. It seems he's now formally secured increased access to the kids, whereby he's legally permitted to see them regularly and Angie can't stand in his way." It's even alleged that photos of Pitt smiling in Los Angeles last month were taken after he "had been hashing out the new custody agreement," though no proof is provided to substantiate that contention. Meanwhile, Jolie is described as feeling "intense pressure" over the situation.
"She's been planning her life in London with the kids for over a year now. Angelina has been lining up film work there these past few months and has been going about it all as though it's a done deal," contends a so-called "source," who adds, "Suddenly, this has become an incredibly stressful situation for her, she's been floored and frustrated by Brad's actions." It's further said Pitt "recently moved on from the marriage" with Neri Oxman, and doesn't care about "disrupting Angelina's new life in London."
There's a number of problems here, including the assertion about the actor's love life. As has already been reported by reliable outlets and confirmed to Gossip Cop by his spokesperson two months ago, Pitt and Oxman are "strictly friends." He's also had regular visits with his kids for a while now. "Entertainment Tonight," for instance, reported back in March that in the wake of Pitt's split from Jolie, "The children continue to live with Angelina full-time, but they visit Brad at his house a few days a week." There was no recent "formal" change, nor were the estranged spouses close to settling their divorce.
Gossip Cop corrected The Sun in early April when it wrongly claimed Jolie and Pitt's divorce would be finalized "within weeks." We were told by a Pitt confidante on the condition of anonymity that nothing was "imminent," and time has since proven that was the truth. As for Jolie moving with the kids to London, this is a frequently repeated untrue rumor that's been spreading ever since she filed for divorce in 2016. Gossip Cop busted it then, and in 2017 People also confirmed Jolie was not moving to London, but would simply travel there for work as needed.
So the notion that Pitt stopped a nonexistent plan to relocate "indefinitely" is nonsense. What's more, though, is that Jolie is currently in London with all six kids as she films Maleficent 2. The exes were at odds over where the children would be based for the summer, and it seems the actress won out. As Gossip Cop was told last week, when In Touch falsely claimed Pitt landed a "victory" in their custody battle, there's "potentially one exception" in which the kids may spend some "brief time in Los Angeles," but otherwise the plan is for them to be in the UK for the duration of the shoot.
Conclusion: The premise of this article is that Pitt has stopped Jolie from permanently moving to London with their children, but Gossip Cop and People both reported more than a year ago that she had no intention of relocating there for good. Additionally, while the stars disagreed on where the kids would spend the summer months, it was Jolie, not Pitt, who won out. As such, there is nothing for her to be "floored" over. Lastly, it is not true that they were close to finalizing their divorce settlement until this recent dispute. Gossip Cop has determined this story is inaccurate on multiple levels and therefore worthy of a zero on our rumor meter.