Beyonce & Jay-Z Share New Pics Of Twins During Opening Night Of 'OTR II Tour'
June 6, 2018
Beyonce & Jay-Z Share New Pics Of Twins During Opening Night Of 'OTR II Tour'
The crowd at Beyonce and Jay-Z's first concert for their 'On The Run II Tour' went wild on June 6, when the couple shared updated pics of their twins, Rumi and Sir! See the photos, here.
Aww! This is the cutest thing ever. Beyonce and Jay-Z showed off new photos of their twins, Rumi and Sir, to an excited crowd at the opening night of their On The Run II Tour in Cardiff, UK on June 6. These are basically the first new photos of the twins that the world has seen since last July when Beyonce had announced she gave birth, so it's kind of a big deal. In the two images, which were obtained by TMZ, both Beyonce and Jay-Z can be seen holding their naked babies in their arms as they pose in front of some trees. Could they be in the middle of a jungle? It's definitely possible! Anyway, Beyonce has beads in her hair and she seems to be wearing a cream or white colored top, while Jay-Z opted for a black t-shirt and black hat for his pics. He also accessorized with a chain around his neck. And as far as the babies are concerned, they look so excited to be resting in mommy and daddy's arms. See the pics below.
As we previously told you, Beyonce and Jay-Z On The Run II Tour will hit major cities all over the world. They'll make stops in Europe, however, before coming to the United States in July. Also worth nothing — this is Beyonce's first set of performances since her epic show at Coachella in April, when she staged a reunion with Destiny's Child. Right now, there's been no sign of their eldest daughter, Blue Ivy, in both photos or on stage at the concert, but considering her siblings just got a major shoutout, we can only imagine she will too at some point. Or maybe she'll just dance and be sassy backstage — we'd love that, too!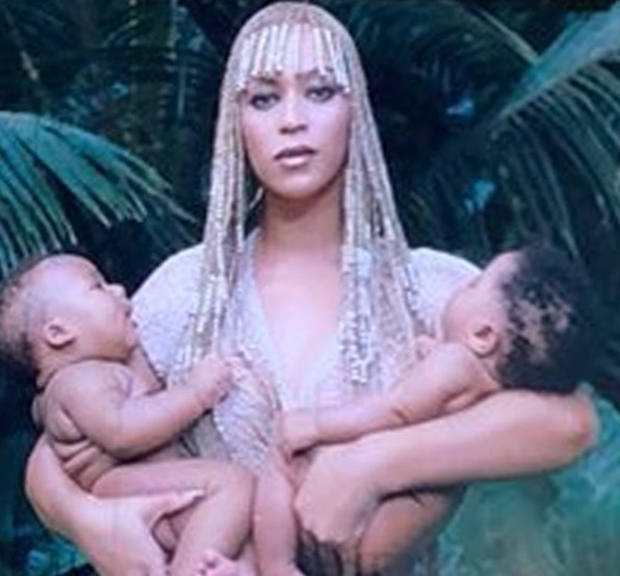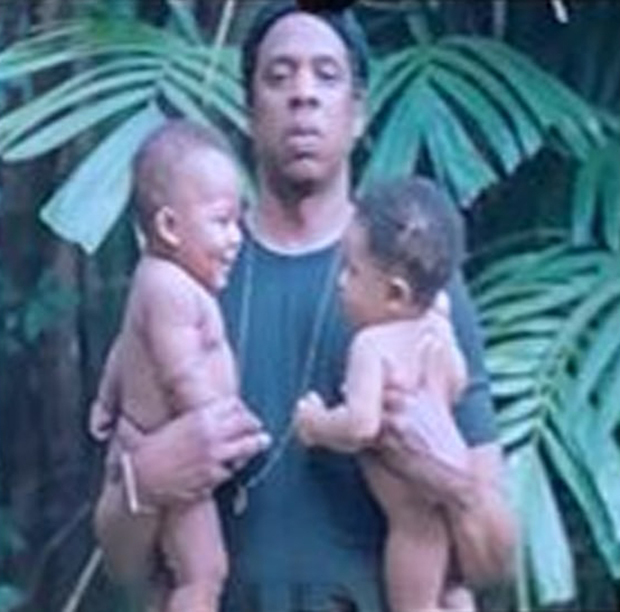 We can't get over how amazing these new photos are. Beyonce and Jay-Z always go above and beyond when showing off photos of their kids, and honestly, we wouldn't have it any other way. We can't wait to see what else they have in store for fans during their new tour!