'Aquaman' Work-In-Progress Teaser, Bits Of 'Shazam!' Shown At Warner Bros' CinemaCon Panel
April 24, 2018
'Aquaman' Work-In-Progress Teaser, Bits Of 'Shazam!' Shown At Warner Bros' CinemaCon Panel
Warner Bros didn't waste time at its CinemaCon session today in Las Vegas and began with the DC goods, initially showing off some behind-the-scenes footage of the Shazam! and Aquaman cast and James Wan introducing an Aquaman teaser with some unfinished VFX.
Related
'Solo: A Star Wars Story' Extended Footage Unveiled: When Han Met Lando – CinemaCon
Essentially it's a lot of Atlantis, swimming fish people sometimes riding sea horses, and futuristic submarines. Aquaman is challenging his brother played by Patrick Wilson for the throne (sounds a lot like Black Panther), with Amber Heard's Mera begging the hairy, bare-chested Jason Mamoa, "Unless you help us, millions will die." The WB release is the event title this Christmas on December 21 sans a Star Wars movie in the market.
Will Arnett hosted the Warner Bros presentation and before the clip was full of zingers. "You're the best f'n Batman," Momoa told Arnett. "Let's keep the F-bombs to a minimum," The Arrested Development actor answered.
"You went from Game of Thrones to Aquaman — does it feel good to work in something that's more realistic?" Arnett asked Momoa.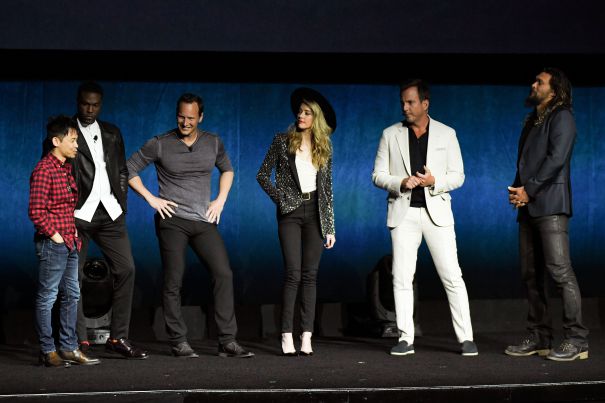 Momoa said, "I was raised in Hawaii and raised in Iowa and that couldn't be more different than Atlantis and land," said the actor, before sarcastically crying, "No one loves me!"
Arnett: "Have you ever wanted to play a character who wears a shirt?"
When it came to introducing Wilson, Arnett said, "This is your fifth collaboration with James Wan, and I speak for everyone when I say, 'Get a room!' " Wilson emphasized that the great thing about Wan was "the characters and relationships" in his movies.
Prior to Aquaman there was a quick DC sizzle reel with bits of New Line's Shazam! — specifically Zachary Levi in the suit, dancing on a Big-like piano — but not enough to describe here.