Anna Wintour "Banned" Ariana Grande From Wearing Ponytail On Vogue Cover?
June 6, 2018
Truth rating: 0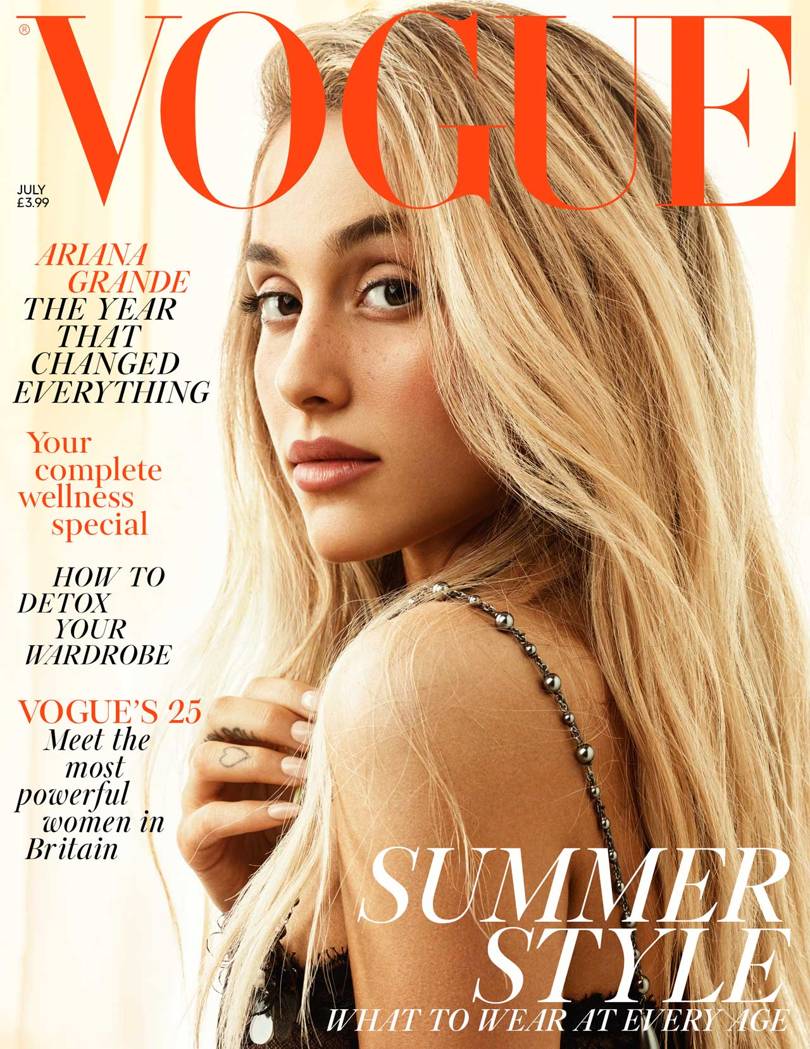 (British Vogue)
Did Anna Wintour "ban" Ariana Grande from wearing a ponytail on the new cover of British Vogue? The singer appears with her hair down on the front of the July issue. But Gossip Cop can easily bust the allegation that Wintour dictated the hairdo.
Grande so often wears her hair in a ponytail that many have considered the style to be part of her signature look. So fans were surprised when the new edition of Vogue UK came out this week with the pop star's hair completely down. Now according to RadarOnline, "the decision to discard Grande's famous ponytail was never hers to make." Rather, claims the site, it was "the price she had to pay if she wanted the coveted cover shot."
"Whenever a celebrity does the cover of Vogue there is a long negotiation. The hair and makeup team must be agreed on by both Anna Wintour (editor-in-chief of Vogue) and the celebrity before the shoot," a so-called "source" is quoted as saying. Another similarly unnamed and untraceable "source" contends to the blog, "It doesn't matter if you are Jennifer Lopez, Angelina Jolie or Arianna Grande — if you appear on the cover of Vogue you must agree to what Wintour wants, or the offer will be withdrawn."
But there's a significant problem with this narrative. Wintour is indeed the editor-in-chief of Vogue and the artistic director of publisher Conde Nast, but she is not the editor of British Vogue. That role belongs to Edward Enninful, who took over the reins from Alexandra Shulman last year. Wintour did serve as the top editor of the UK edition from 1985 to 1987, but since leaving that position three decades ago, she does not determine who appears on the cover or how stars should be styled for the magazine's shoots. She calls those shots for the American version, but not the UK one.
Indeed, it is Enninful who penned the editor's letter for Grande's issue, in which she is praised for "sharing the experience of her difficult and transformative past year." For what it's worth, nothing is said about how her hair is or isn't styled. Regardless, a rep for Vogue confirms to Gossip Cop that it was Enninful, not Wintour, who helmed the issue and selected the cover design. And it is he whom Grande thanked in an Instagram post, in which she wrote, "thank you @britishvogue. I don't even know where to begin to express my love and gratitude @edward_enninful." Wintour isn't mentioned at all.
Conclusion: RadarOnline contends Vogue "banned" Grande from wearing her "trademark ponytail," and specifically points the finger at Wintour. But Grande posed for the British edition of the magazine, and, as is commonly known, Wintour is not the editor of the UK version. That title belongs to Enninful, who is responsible for editorial decisions, a spokesperson confirms to us. Lastly, it should be mentioned that the website has a history of spreading misinformation when it comes to Wintour and Vogue. In 2014, we corrected the online publication when it wrongly claimed Sarah Jessica Parker was going to be her successor. Four years later, with Wintour still in her job, it's clear our debunking was correct.